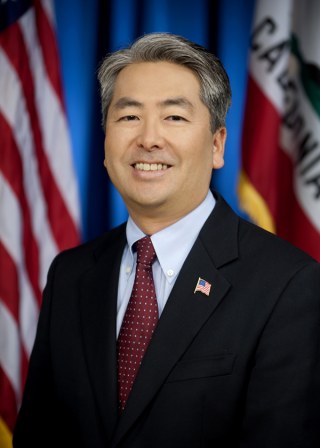 Assemblymember Al Muratsuchi (D-Torrance) represents California's 66th Assembly District, located in the South Bay of Los Angeles County. He is a former prosecutor and Deputy Attorney General with the California Department of Justice and a former Torrance School Board member.
As a state legislator, Muratsuchi is fighting for the South Bay and the California Dream. His priorities are jobs, education, public safety, the environment, and veterans. As a father and husband, Muratsuchi is fighting to keep the South Bay a special place to live and raise a family.
Jobs are a top priority. As Chairman of the Assembly Select Committee on Aerospace, Muratsuchi wrote AB 777 and AB 2389, laws that support aerospace leaders like SpaceX and Northrup Grumman grow and create thousands of local jobs. Muratsuchi also wrote AB 2188, a law that streamlines bureaucratic regulations to help small businesses. For his work, Muratsuchi has received the California Legislator of the Year Award from the California Solar Energy Industries Association, Alliance of Automobile Manufacturers, and Global Automakers.
Education is also a top priority. As former Chairman of the Assembly Budget Subcommittee on Education Finance, Muratsuchi helped deliver essential funding for our K-12 schools, the University of California, the California State University, and California community colleges. In 2017, Muratsuchi delivered $10 million in dedicated funding for the Southern California Regional Occupational Center (SCROC) in Torrance.
As a former prosecutor, Muratsuchi has worked with law enforcement to write laws like AB 368 to crack down on sex offenders and other criminals. In 2017, Muratsuchi earned a 100 percent pro-public safety voting score from the California Police Chiefs Association.
A champion for the environment, Muratsuchi wrote AB 1775 to oppose the Trump Administration's proposal to renew offshore oil drilling off California's coast. He also wrote several new laws to make the Torrance Refinery and other oil refineries safer. Muratsuchi authored AB 754, a law that provides funding for coastal protection programs, and AB 2711 to help defeat an oil drilling proposal in Hermosa Beach.
Muratsuchi has been a leader in the fight to improve support services for homeless and disabled veterans. For his work, Muratsuchi received the California Legislator of the Year Award from AMVETS, a national veterans' organization.
Muratsuchi lives in the South Bay with his wife, Dr. Hiroko Higuchi, and their daughter, who attends a local public school. Muratsuchi has lived in the South Bay for over twenty-two years. He is a graduate of the University of California, Berkeley, and the UCLA School of Law.
The 66th Assembly District includes El Camino Village, Gardena, Hermosa Beach, Lomita, the Los Angeles neighborhoods of Harbor City and Harbor Gateway, Manhattan Beach, Palos Verdes Estates, Rancho Palos Verdes, Redondo Beach, Rolling Hills, Rolling Hills Estates, Torrance, and West Carson.