Please help us protect our beautiful coast and neighborhoods from air and water pollution created by the fossil fuel power plant in Redondo Beach by signing this petition in support of Assembly Bill 2071/AB 353, which will prohibit the state from extending the operating time of AES Redondo Beach and forcing it to shutdown.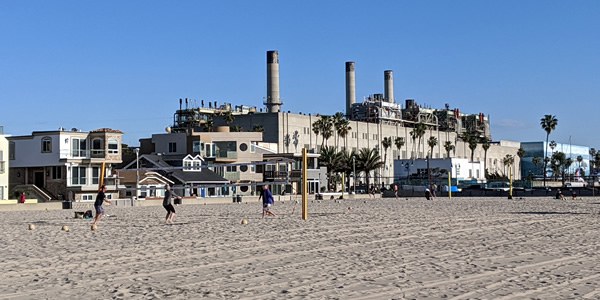 The AES Redondo Beach plant was scheduled to retire by December 31, 2020. The City of Redondo Beach was planning to turn half the site into open parkland and to restore historic coastal wetlands. The city has already received a $4.8 million grant from the Natural Resources Agency through Proposition 68 for this project. However, the Public Utilities Commission (PUC) recently proposed allowing the power plant to operate for at least another one to two more years.
AES Redondo Beach was shutting down to comply with the State Water Resources Control Board's (State Water Board) Once-Through Cooling (OTC) policy. This policy requires power plants with OTC systems, which pump in billions of gallons of seawater to cool steam for generating electricity, to cease operations because OTC systems kill millions of fish and other marine organisms and discharge warm water back to the ocean contributing to algal blooms and further ecosystem degradation.
The Redondo Beach plant itself also has significant health and safety impacts on the residents in surrounding communities due to noise and air pollution. Residential communities surround the power station with over 21,000 people living within a mile of the plant. The aged natural gas plant is the leading contributor of fine particulate matter pollution in the area and second, only to transportation, in emissions of nitrogen oxides.
The State Water Board established the OTC compliance deadline for AES Redondo Beach back in 2010. Last year, however, due to concerns over emergency power supply reserves, the PUC recommended further extension of the deadline for AES Redondo Beach. This recommendation came despite the fact that California's grid reliability authority noted that, with other power plants agreeing to stay operating for emergencies, AES Redondo was not needed.
Allowing the plant to stay operating permits it to continue harming the health of our residents and our coast. Additionally, it could put the funding for the parkland and wetland restoration in jeopardy. For these reasons, AB 2071/AB 353 prohibits the State Water Board from extending the compliance deadline for when the AES Redondo Beach plant must retire any further.
AB 2071/AB 353 will help end the harmful impacts of OTC to the marine life of Santa Monica Bay, significantly reduce dangerous air pollution on our communities, and uphold California's commitment to its climate and greenhouse gas reduction goals.
Please sign the petition in support of this important piece of legislation for our community and for California.
 
SIGN the Petition