"Thank you to everyone who wrote, called, emailed, and texted in support of this bill. Happy to report that the Governor signed the bill and it's now state law!"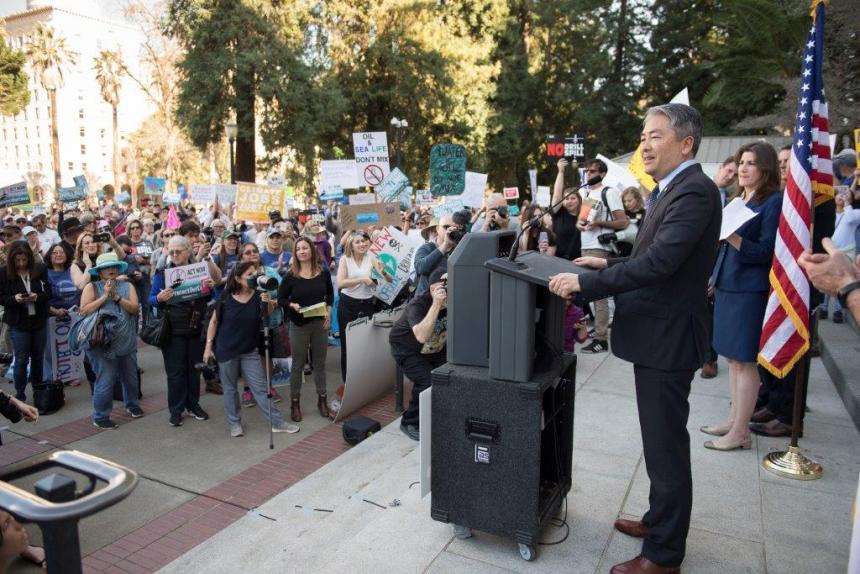 President Trump has issued an Executive Order trying to overturn efforts by President Obama to protect the Arctic and the Atlantic from offshore oil drilling. 

It's been seven years since we watched the Deepwater Horizon offshore drilling disaster threaten the Gulf coast and its communities. We saw a hundred dolphins and a humpback whale trapped and dying in oil. We saw the oil wash into the nation's most productive fishing grounds, and heard from those in the fishing industry who didn't know how they would provide for their families.  We cannot stand idly by and let this happen again.
Assemblymember Monique Limon and I have introduced legislation which would empower the State Lands Commission to deny any contract that would result in increased oil or natural gas production from federal waters off California's coast.  We will resist the Federal intrusion into our clean waters and beaches.

Sign the petition in support of AB 1775 (Muratsuchi and Limon) and tell the Trump administration it's time for jobs-generating clean energy. We must leave offshore oil in the ground, under the seabed, and out of our precious bays and oceans.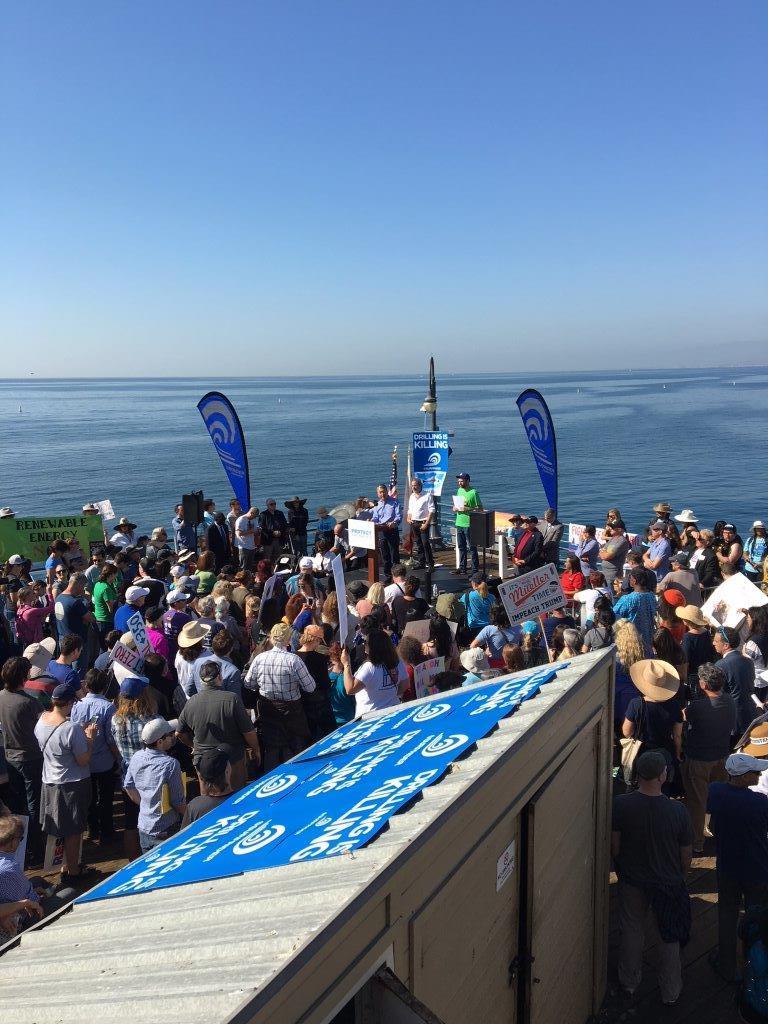 Impetus for AB 1775:
The 2019-2024 National Outer Continental Shelf Oil and Gas Leasing Program marks a significant departure from previous administrations' policies and positions on offshore oil and gas drilling and exploration. 
The aggressive five year leasing plan follows two executive orders by the Trump administration to roll back offshore drilling safety regulations that were put into place in 2010 following the Deepwater Horizon spill and encourage energy exploration and production.
The executive orders seemingly disregard responsible environmental policy, scientific research, and evidence by encouraging the Secretary of Commerce to refrain from designating or expanding any National Marine Sanctuary that would compromise increased offshore energy production.
In combination, the administration's actions are deeply concerning and could spell out disastrous consequences for California and the nation. 
The risks associated with offshore exploration and drilling are well-known.  Put plainly and simply: increased drilling increases the risk of oil spills. 
California has experienced the devastation caused by spills and we cannot afford to put our environment, our coast, and our people at further risk.
AB 1775 is an important and necessary piece of legislation that will protect California from the negative environmental impacts that will result from the Trump administration's dangerous policy.
Existing Leases, Platforms, and Pipelines in State Waters:
Since 1938, the State Lands Commission has had jurisdiction over the leasing of oil and gas from offshore state lands.  Between 1938 and 1968, over 50 offshore oil and gas leases were issued by SLC. 
In January 1969, the Santa Barbara oil spill occurred.  The spill was the result of a well drilling blow-out at an offshore platform located in the federal OCS off the coast of Santa Barbara County.  The cause was inadequate protective wellpipe casing. 
 
The event lasted 11 days and spilled between 80,000 and 100,000 barrels of crude oil.  Two hundred square miles of ocean and 35 miles of California coastline were oiled and thousands of animals were killed. To date, it is the worst spill in California's history.
 
Following the 1969 Santa Barbara spill, the SLC has not entered into any new offshore oil and gas leases.
 
In 1994, the California Coastal Sanctuary Act removed all state lands underlying the Pacific Ocean from SLC's oil and gas general leasing authority. 
 
Since 2001, SLC adopted several resolutions opposing the resumption or expansion of federal offshore oil and gas lease sales in the OCS.  The foundation for each resolution was the same:  that the danger of an oil spill like the 1969 Santa Barbara oil spill was too high and that oil development and potential spills would adversely affect fishing, tourism, and environmental, recreational, economic, scenic, and other values. 
 
Currently, SLC and local trustees have 19 right-of-way leases to allow pipelines that transport oil and natural gas produced in federal waters across state waters. 
Proposed Lease Sales Under OCS Five Year Plan:
The five year plan opens over 90% of the Outer Continental Shelf (OCS) for 47 new oil and gas leases.  Interior Secretary Ryan Zinke noted that the proposal marks the greatest number of lease sales in the OCS Program's five year schedule.
 
The West coast is referred to as the: Pacific Region Planning Area
 
The Pacific Region Planning Area is divided into four planning areas:

Washington/Oregon
Northern California
Central California
Southern California
 

Six new lease sales are proposed for California. Two leases are planned to be sold in each of California's three regions.
 
The specific locations of the lease sales for the planning areas have not yet been selected and/or disclosed.
 
To put the federal OCS Plan in perspective, between 1938 and 1968, a little over 50 offshore oil and gas leases were issued by SLC.  The Trump administration is now recommending that the country sell nearly that many leases in the span of five years, while at the same time rolling back offshore drilling safety regulations.
Components of AB 1775:
How the bill works: If new oil and gas leases are issued by the federal government, the product would need to be transported ashore to be processed, refined, and brought to market.  AB 1775 prohibits SLC from issuing a new right-of-way lease or renewing an existing lease if that action will result in the increase of oil or natural gas production from federal waters.
The theoretical threat of expanded offshore drilling and exploration is quickly becoming a reality and AB 1775 will help put a stop to the real dangers posed by the federal OCS plan.
 
AB 1775 provides the States Lands Commission with the authority to deny expanded offshore drilling by prohibiting the issuance of new leases or the renewal, extension, or modification of any existing lease that authorizes a lessee to engage in new or additional exploration, development, or production of oil or natural gas. 
 
By ensuring that new and renewed leases are not granted, California will be able to protect the environment, our coast, and our economy from the risks posed by offshore drilling and production.
 
While the current Commission has stated its commitment to not enter any new leases proposed in the federal OCS five year leasing program, when the Commission's membership eventually changes, AB 1775 will go a step further by ensuring that California is protected from current and future attempts to expand offshore exploration and drilling for oil and gas.
Goals of AB 1775:
AB 1775 is designed to maintain California's longstanding policy to keep new offshore drilling operations out of our waters and protect the environment, our coast, and our economy.
 
Oil and gas exploration and drilling present unacceptable risks to our state that could result in catastrophic environmental impacts.
 
California is all too familiar with the fallout caused by spills.  The 1969 Santa Barbara spill stands as a stark reminder of the dangers, but we saw the devastating consequences of irresponsible practices and maintenance in 2015 with the Refugio spill.
Clean up and remediation cost millions of dollars and have far reaching environmental consequences.  Clean up costs associated with the Refugio spill were close to $100 million.
 
Oil spills not only have negative environmental impacts, they also affect our economy.
 
According to an economic impact study by Greater New Orleans, the Deepwater Horizon spill in the Gulf of Mexico cost the fishing industry, and fishing dependent industries, nearly $144 million. This is comparable to losses from previous oil spills – the 1989 Exxon Valdez spill in Alaska cost the commercial fishing industry $136.5 million in 1989 alone.
 
According to a report by NOAA, California's ocean-based economy generated $662 billion in wages and $1.7 trillion in GDP in 2012.  Interruptions, such as oil spills, to the operation of one of the state's largest economic drivers are also unacceptable.
 
Oil spills disrupt tourism, commercial fishing, and marine transportation.