September 2017 Newsletter

Autumn is here!
This month, the 2017 legislative session came to a close.  I'm excited to announce that 12 bills I introduced this year are currently awaiting signature on the governor's desk.  If signed, a number of the bills will have a direct and positive impact on the South Bay including:
AB 651 – Strengthens the attorney general's oversight authority when nonprofit health facilities are sold to for-profit buyers.
AB 994 – Allows the Beach Cities Health District to utilize a streamlined and cost-efficient construction process for the planned revamp of their 11-acre campus in Redondo Beach.
AB 1452 – Allows cities to designate curb-side parking spots as electric vehicle charging stations.
AB 1646 – Requires a refinery to implement a publicly accessible community alert program to be used in the event of an incident at the refinery.
AB 1647 – Requires refineries to install and maintain air quality monitors at the refinery fence line and in the community.
As preparation for the next legislative session begins, I encourage you to please contact me with your ideas on how we can continue to improve the lives of everyone in the South Bay.
In this issue of the newsletter, you'll find information about:
In this issue of the newsletter, you'll find information about:
Labor Day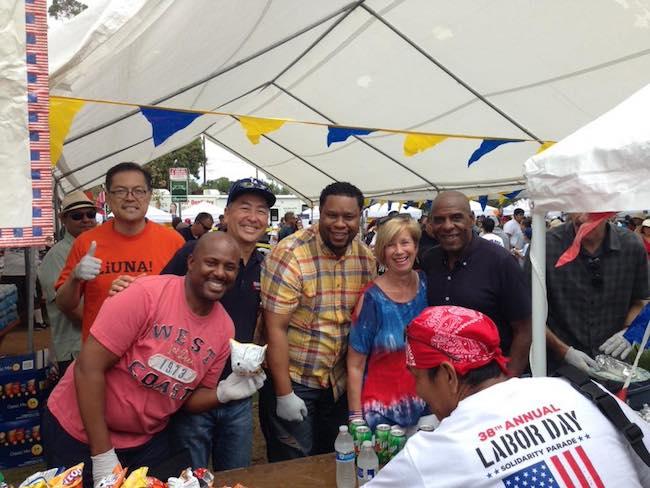 I celebrated the importance of organized labor at the 38th Annual Labor Solidarity Parade & Rally in Wilmington.  The men and women who marched in the parade are the backbone of our entire Southern California economy.  They are the warehouse and construction workers, iron and steel workers, welders and pipe fitters, and so many others that are essential to our way of life.
To demonstrate our gratitude, it's tradition for elected officials in the South Bay to serve the union laborers as many hot dogs as they can eat!
---
Senior Scam Stopper Seminar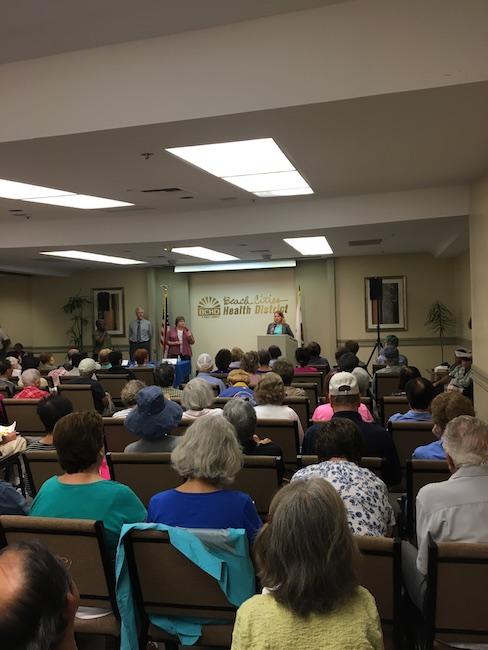 The Contractors State License Board (CSLB) assisted me in coordinating a Senior Scam Stopper Seminar.  The event was held on Friday, September 8, at the Beach Cities Health District campus in Redondo Beach.  Over 100 older adults attended and learned about how to protect themselves from financial fraud and scams.  In addition to CSLB, the Bureau of Automotive Repair and the Department of Business Oversight were on hand to provide information and answer questions.
---
Torrance High 100th Anniversary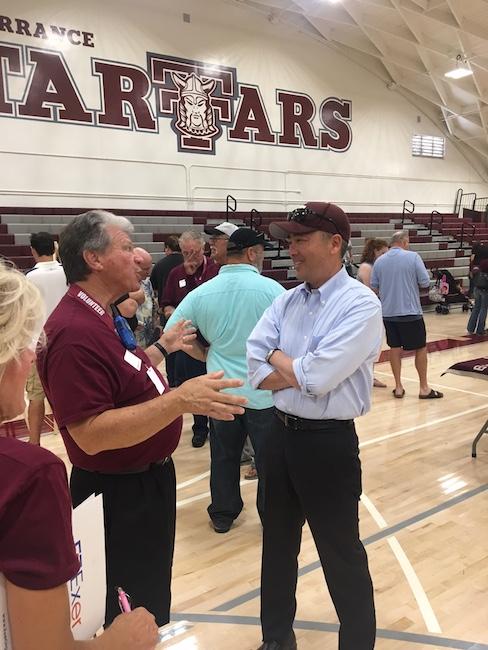 I was proud to join Congressman Ted Lieu, Torrance city councilmembers, and Torrance Unified School Board members in celebrating Torrance High School's 100th Anniversary.  The school is famous for its iconic architecture, which has been featured in beloved television shows and movies including Beverly Hills, 90210 and Buffy the Vampire Slayer.  It was also recently named the most beautiful public high school in California by Architectural Digest magazine.  Most importantly, Torrance High School has provided a world-class education to generations of students who have gone on to have a positive impact in their communities.  As a former Torrance School Board member, I was especially proud to be a part of this Centennial celebration and want to wish every current and past Tartar all the best for another 100 years.
---
Torrance Kiwanis Club Luncheon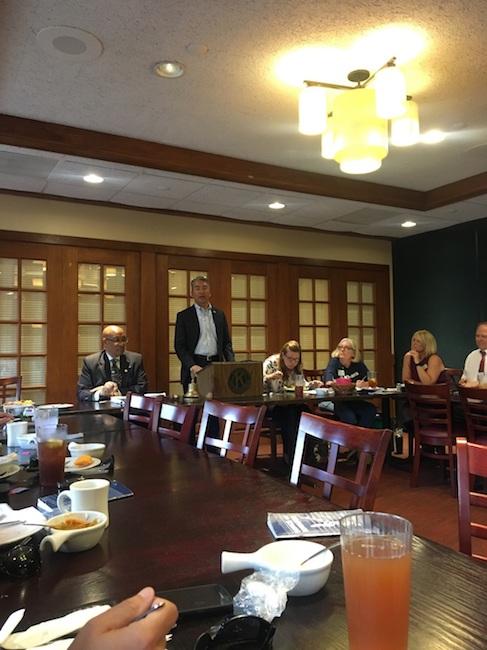 It was a privilege to be invited as the keynote speaker and join outgoing Torrance Kiwanis Club president, city councilmember Milton Herring, earlier this month.  We had a great discussion regarding legislation impacting the Torrance community, including my bills focused on refinery safety.  It was wonderful to spend time with this dedicated group of individuals focused on giving back to the Torrance community.
---
District Office Grand Opening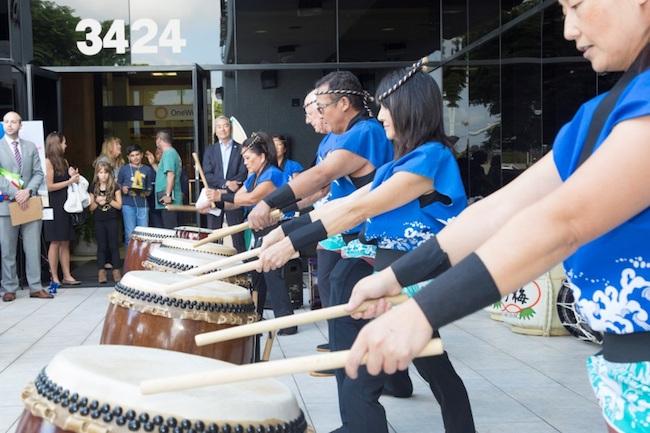 Welcome to the South Bay! I held an open house to celebrate the grand opening of my new district office right in the heart of Torrance, on Friday, September 22.  Special thanks to our sponsors and partners: Torrance Area Chamber of Commerce, Mutual Trading Co., Coca-Cola, Youjuu Daiko, Smog City Brewery, Red Car Brewery, and Destination: Art.
---
Ask Al
Thank you to Steve's Charbroiled Burgers for hosting this month's "Ask Al" Community Coffee.  Torrance residents joined me for a discussion about issues that concern them and how I, as your assemblymember, can help address these issues.  I was pleased to discuss some of the community's legislative priorities including public safety, education, healthcare, and affordable housing.  I look forward to next month's Community Coffee at Caffe Bene in Harbor City.
---
Harbor City Health Clinic Tour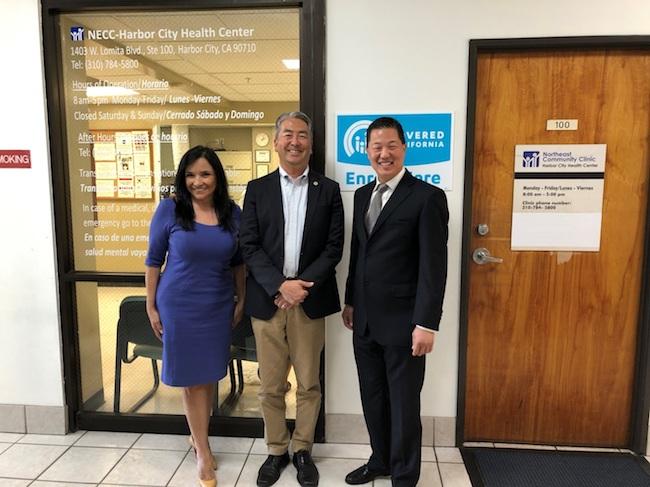 On Monday, September 25, I visited the Northeast Community Clinic (NECC) in Harbor City.  This was a touching experience and provided me the opportunity to learn about the hardships that are specific to clinics in low-income neighborhoods.  NECC is providing a much-needed service to a grateful community.  Proper healthcare is a human right, which should not be dependent upon wealth.
---
Environmental Stewardship Award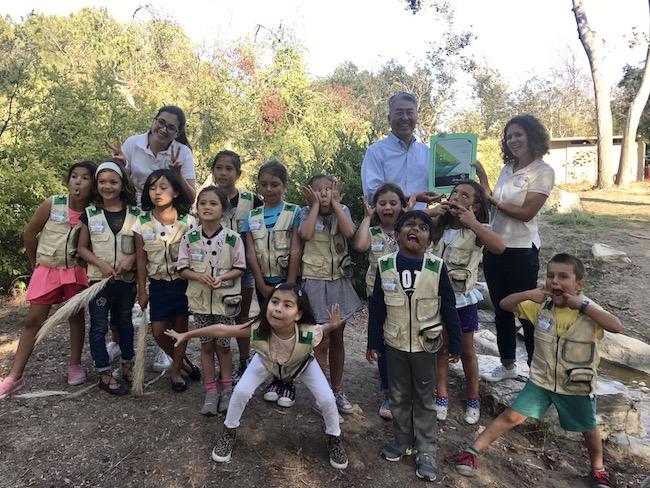 This month, I was pleased to honor Kathleen Jacecko, the director of South Bay Eco Kids Camp, with my Environmental Stewardship Award.  Director Jacecko has dedicated her life to environmental education.  She is a former public school teacher at Redondo Union High School who worked with the Ballona Wetlands Land Trust to protect our environment.  She also founded TeachingGreen and South Bay Eco Kids to teach both adults and children how to live a greener, more sustainable lifestyle.
---
College Savings Month
September was College Savings Month and serves as a reminder that it's never too early to start saving for your children's future.  Higher education is one of the essential pathways by which students pursue meaningful careers and find quality jobs that pay well.  However, it is becoming increasingly difficult for students and their families to afford college without taking out large student loans.  As of 2016, the Federal Reserve Bank of New York reported that national student loan debt has climbed to over $1.3 trillion.
The cost of higher education can be daunting, but you can start saving for your child's future immediately by opening a 529 College Savings Plan, which is an account that is specifically designated for higher education savings and is protected from being taxed.  In addition to these savings accounts, there are many public and private scholarships, as well as financial aid available to prospective college students.  The key to saving, seeking out scholarships, and financial aid is to get started early.  I encourage you to take the necessary steps now to invest in your children's future by starting to save today.
---
What's up in AD 66 next month?  Here are a couple of events:
10/3/17 – Campus Safety 101 Town Hall, El Camino Community College, Torrance
10/7/17 – Children's Health Fair, Harbor City UCLA Med Center, Harbor City
10/12/17 – South Bay Workforce Investment Board Awards Dinner, Torrance
10/13/17 – Aerospace Workforce Development Hearing, SoCalROC, Torrance
10/28/17 – Ask Al Coffee and Conversation, Caffe Bene, Harbor City