Muratsuchi Monthly - September 2018

Legislative Update 2018
This year I sent 7 bills to the Governor and I am happy to report he signed 6 of those bills. The first, AB 1775 (Off-Shore Drilling) protects California's coast and economy from Trump's plan to expand offshore oil drilling and production in California waters.  Second, surfing is now the official state sport of California thanks to AB 1782 (Surfing).  To help continue our state's climate change goals, AB 1796 (Electronic Vehicle Parking) expands electric vehicle charging stations to promote the use of electric vehicles.  With the signature of AB 2791 (Animal Adoption) thousands of kittens and puppies will be saved by making them available to nonprofit animal rescue or adoption organizations.  Additionally, more children will be protected from exposure to highly toxic pesticides thanks to AB 2816 (Healthy Schools Act) and lastly, to continue my goals of refinery safety for the South Bay, AB 3138 (Hazardous Materials) enforces stricter penalties on facilities that handle toxic or flammable chemicals that pose serious risks to the public and environment.  
In this issue of the newsletter, you'll find information about:
Labor Day Parade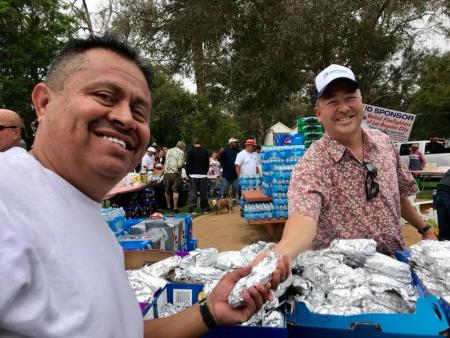 I celebrated Labor Day at the Labor Solidarity March in Wilmington! I'm proud to stand with labor! Protecting and creating good jobs will always be one of my top priorities.
---
Small Business Advisory Council
I conducted my regular meeting of Assembly District 66's Small Business Advisory Council on Thursday, September 6th. Donna Duperron of the Torrance Area Chamber of Commerce, Eileen Hupp of the Palos Verdes Chamber of Commerce, and Laurie Brandt, co-owner of Red Car Brewery, shared their concerns- as well as those they have heard- as members of the South Bay business community. We discussed minimum wage, the recent California Supreme Court definition of an independent contractor, the future of the Toyota Campus, and the need for an approach to affordable housing that respects the need for local control. I look forward to continuing to study and act on these issues.  
---
National Drive Electric Week at Los Angeles Cleantech Incubator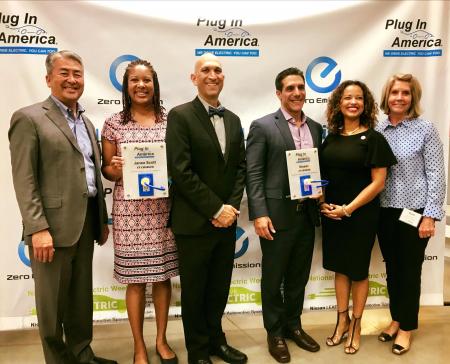 I kicked off National Drive Electric Week this month with Plug In America.  I spoke in support of the electric vehicle movement, and my Assembly Bill 1796 which will help install more electric vehicle charging stations on rental properties, and the EV Driver Bill of Rights.
---
El Camino Public Safety Center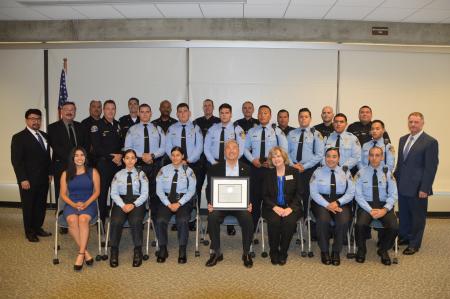 I delivered $10 million in state funding for a South Bay Public Safety Training Center this month. The funding will help provide the South Bay with a much needed public safety training center for our firefighters, law enforcement, paramedics, and emergency medical technicians. Thank you El Camino College President Dr. Dena Maloney, Torrance Fire Chief Martin Serna and the Public Safety Training Center Advisory Council for the recognition.
---
Ask Al Torrance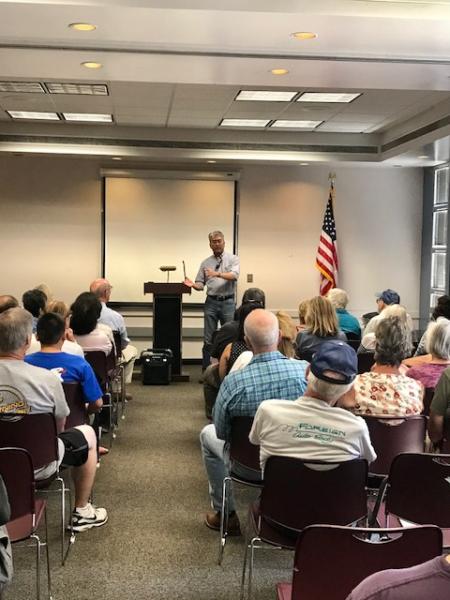 My first Community Coffee of the month took place at Torrance Municipal Airport's Zamperini Field Community Room on September 8th. It was a packed house and we had great conversations about fracking, traffic, the Metro Green Line extension, housing, and other community concerns. I always enjoy engaging constituents at these coffees and was encouraged by everyone's desire to participate in the issues that affect their daily lives.
---
Evening of Aloha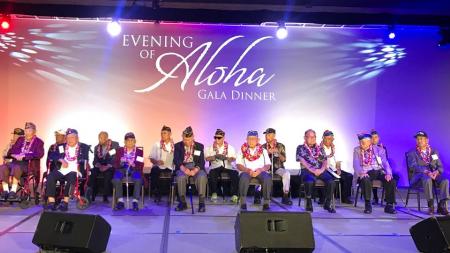 It was my pleasure to support and honor surviving World War II Japanese-American veterans who fought for America while the US government incarcerated their families in camps behind barbed wire at the Go For Broke National Education Center's Annual Evening of Aloha Gala Dinner. GFBNEC continues to tell the stories and carries on the legacies of these great American heroes.
---
September 11 Memorial Ceremony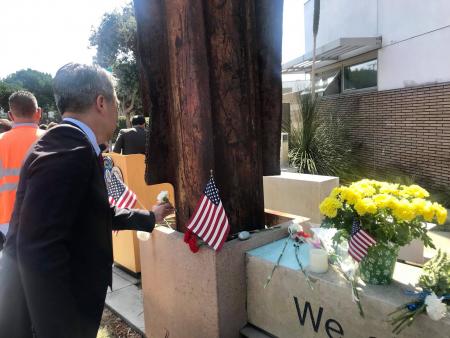 We will never forget what happened on September 11, 2001. Thank you Manhattan Beach for the wonderful ceremony to remember our loved ones, first responders and all who were affected by this moment in history. Our spirit was tested, but never broken.
---
South Bay Aerospace Alliance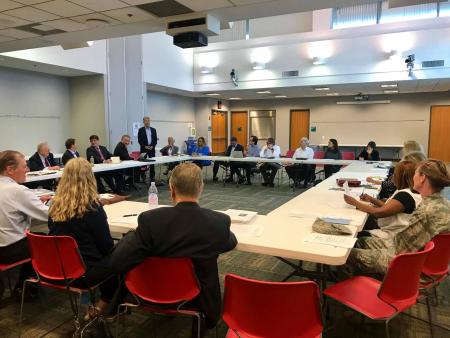 I was honored to welcome Los Angeles Air Force Base Commander Colonel Ann Igl to Assembly District 66 at the South Bay Aerospace Alliance Meeting on September 12th. I gave an update about AB 427, my Aerospace Commission bill which was sent to the Governor's Desk. Thank you to the Alliance for all their hard work and advocacy for the aerospace industry and LAAFB!
---
2018 Women of Distinction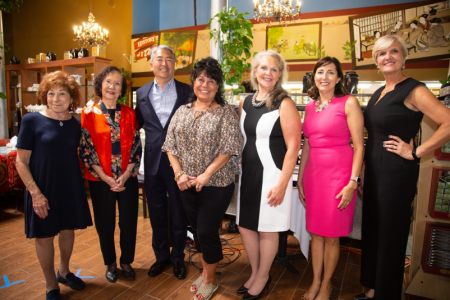 I had the privilege of honoring Assembly District 66's Woman of the Year and six Women of Distinction on September 12th. The honorees, pictured from left to right, were Rabbi Gila Katz, Hazel Taniguchi, Esther Hatch, Eileen Hupp, Councilmember Amy Howorth (AD 66 Woman of the Year), and Laurie Latham Brandt (not pictured: Wanda Love). These women have consistently displayed excellence, integrity, and dedication in the fields of volunteerism, education, business, and public service. Thank you to the honorees for the example they set to women and girls throughout the South Bay and thank you to Chado Tea Room for hosting the event in their beautiful Old Town Torrance location.
---
Global Climate Action Summit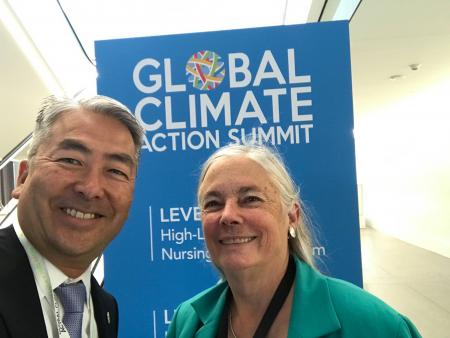 On September 13th, I attended the Governor's Global Climate Action Summit. California is taking the lead to work directly with international leaders. I led a discussion between European Union Parliamentarians and California legislators comparing our carbon cap and trade markets. I also met Former Vice President Al Gore who thanked me for SB 100 to work toward 100 percent clean, renewable energy!
---
South Bay Armenian Center's Family Night BBQ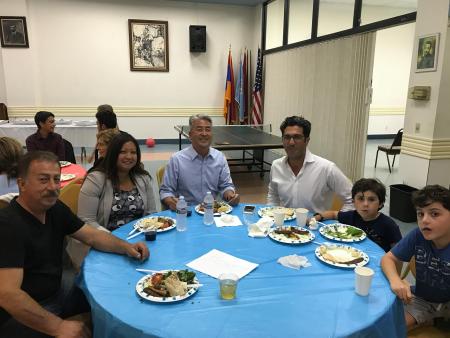 I had a wonderful time at the South Bay Armenian Center's Family Night BBQ. The Center hosts family night bbqs as an opportunity for community members to gather, eat together, and play games together. Thank you to the South Bay Armenian Center for having my staff and I join you!
---
Coastal Clean Up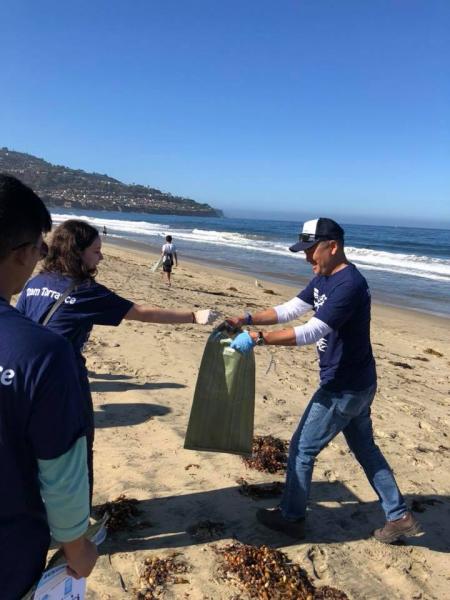 I joined the City of Torrance, Torrance Chamber of Commerce, American Honda, and many more to clean up Torrance Beach on Coastal Clean-Up Day on September 15th. It is crucial that we keep our beaches and waters clean for all Californians to enjoy. That's why I am the proud author of AB 1775, which bans any new oil drilling off the coast of California.
---
Hermosa Heroes Pancake Breakfast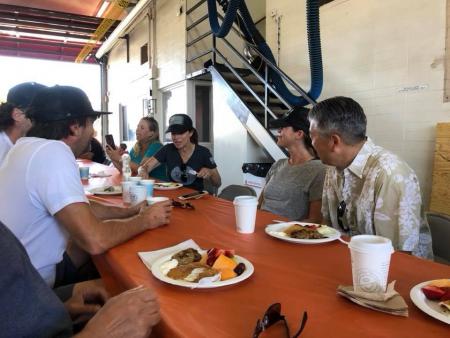 Following the Coastal Clean-Up, I supported Hermosa Beach firefighters, police, and lifeguards at the Hermosa Heroes Pancake Breakfast! I can't thank these brave men and women enough as they continuously keep us safe from crime, wildfires, and even the occasional surfing accident!
---
Ask Al Manhattan Beach
On September 15th, my second Community Coffee of the month took place in the meeting room at the Manhattan Beach Library. Constituents and I were able to discuss topics such as jobs and the economy, pesticide use, and housing. Thank you to all who attended and participated in this coffee as well as to the library for being such a great host.
---
Switzer Learning Center's Boots, Brews, and BBQs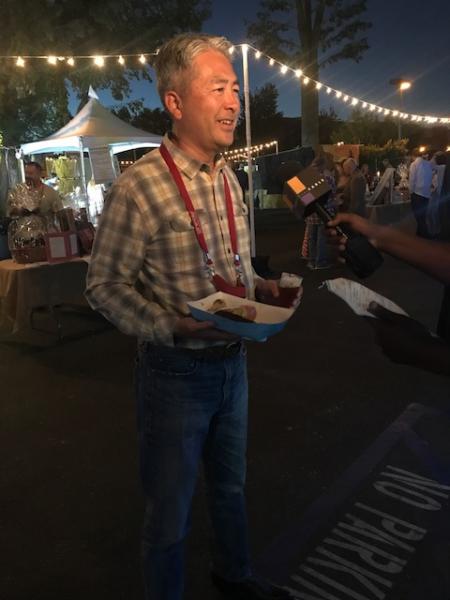 For my final event stop on September 15th, I enjoyed some quality BBQ at Switzer Learning Center's annual Boots, Brews, and BBQs fundraiser. Switzer Learning Center provides excellent special education with therapeutic services to students in the South Bay community. At the event, they provided a fun western-themed night that benefitted the lives of their students. I am grateful that I was able to participate in this great night.
---
People First South Bay/Harbor Area Meeting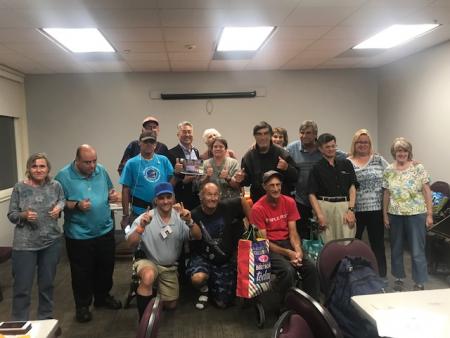 I spent the evening of September 17th at the monthly meeting of the South Bay/Harbor Area chapter of People First. People First is a self-determination group by and for individuals with disabilities. During the meeting, I provided a legislative update regarding the issues that participants stated were most important to them. We had an engaging conversation about affordable housing, refinery safety, the state's support of the Harbor Regional Center, and public safety. I enjoyed meeting everyone and was grateful for the opportunity to exchange ideas and information.
---
Asian Pacific Islander Business Listening Tour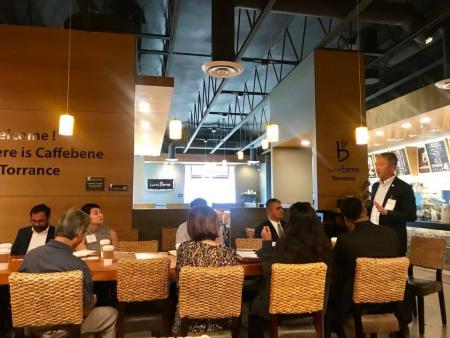 I co-hosted a small business roundtable with the California Asian Chamber of Commerce at Caffe Bene in Torrance on September 18th. We discussed the challenges facing small business owners like securing loans and immigration concerns like H1B visas.
---
Palos Verdes/ South Bay Audubon Society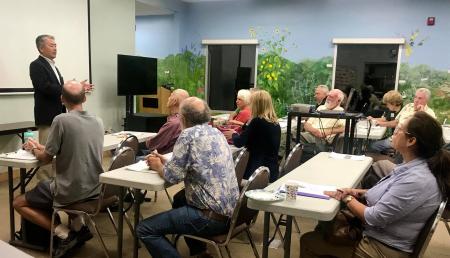 I had a great discussion with the Palos Verdes/South Bay Audubon Society at their monthly meeting where I talked about my off-shore oil drilling bill, Governor's Climate Change Summit and California wildfires.
---
South County Labor Breakfast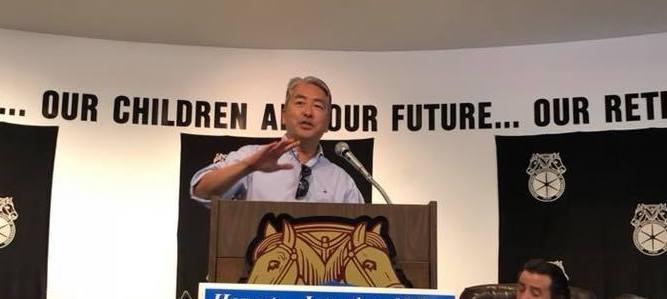 I am dedicated to fighting for the middle class like the folks at Teamsters Local 848 and all of the hard working members of South County Labor! This year I authored a bill to protect women in the workplace by requiring all hotels to supply each maid with a "panic button." This bill will allow women to alert security if they are in danger while alone in a guest's room.
---
Hermosa Beach Education Foundation and Parent Teacher Organization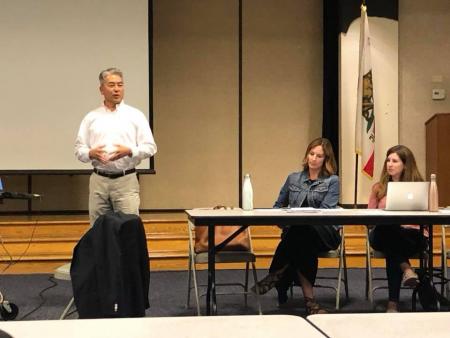 I'm fighting to get more state funding for South Bay schools. On September 25th, I joined the Hermosa Beach Education Foundation and Hermosa Beach Parent Teacher Organization board members to discuss my Assembly Bill 2808 and the need to increase state per pupil spending in California.
---
Torrance State of the City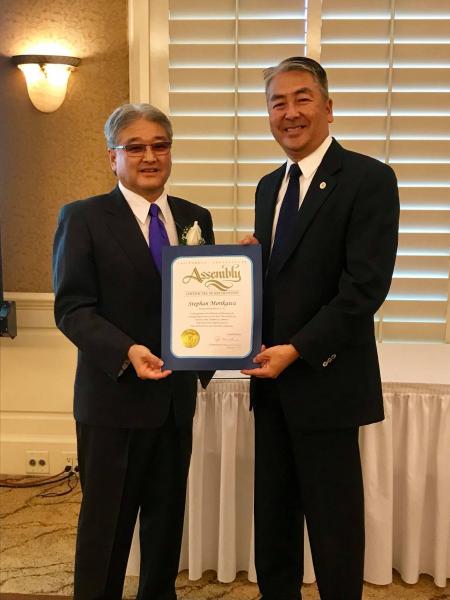 Happy to honor Stephan Morikawa of American Honda Motor Co., Inc. as Torrance Area Chamber of Commerce's "Distinguished Citizen of the Year" at the City of Torrance State of the City. Thank you Stephan for all your hard work and support for the city of Torrance!
---
What's up in AD 66 next month?  Here are a couple of events:
Earthquake Preparedness Townhall Meeting
Meet and Greet with CSU Long Beach President Jane C. Conoley
Legislative Tech and Innovation Caucus Tour
Torrance Council of PTA Luncheon
Palos Verdes Peninsula PTA Legislative Meeting
Redondo Beach Unified School District's State of Education
33rd District PTA - Fall Legislative Conference
Aerospace Manufacturing Roundtable
South Bay Council of Governments Legislative Breakfast