May 2018 Newsletter

The Muratsuchi Monthly
Memorial Day Events
On Memorial Day, families across the South Bay enjoyed picnics, spent time with friends and family at one of South Bay's beautiful beaches and parks or spent a day at home enjoying a nice barbecue. But, Memorial Day is more than just that - it is about spending time honoring our fallen soldiers who have given their lives in service to this country. In honor of our proud soldiers in the South Bay, I was honored to participate in events across the South Bay, including a parade in Torrance as well as Memorial Day services in Palos Verdes, Redondo Beach and Torrance.  Here are some highlights:
59th Annual Armed Forces Day Parade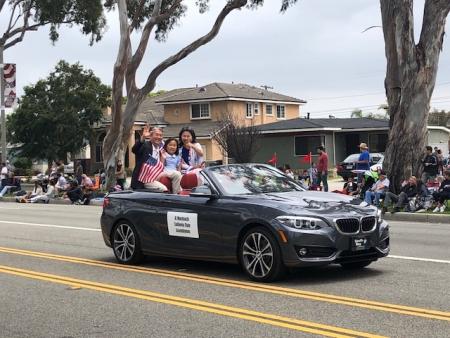 The City of Torrance hosted the largest and longest running Armed Forces Day Parade in the nation for the 59th time! I was proud to participate in this parade to honor the amazing veterans and service members that have dedicated their lives to this great country. This year we featured and honored the Montford Point Marines who broke barriers and became the first African-American unit in the U.S. military.
Green Hills Memorial Day Event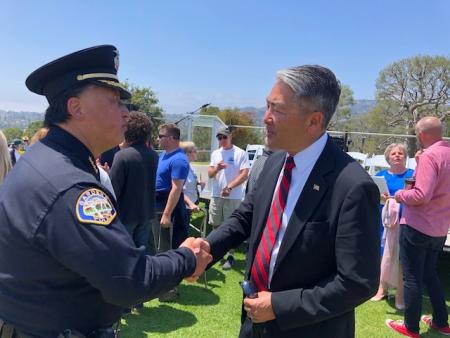 Green Hills hosted another amazing ceremony that featured multiple fly-overs, a tremendous color guard featuring all 5 branches of the U.S. military and police and fire departments from around the South Bay. I had the privilege of raising the California flag to half-mast, to pay tribute to all of those who have given their lives to protect this country and all Americans.
Redondo Beach Memorial Day Service & Elks BBQ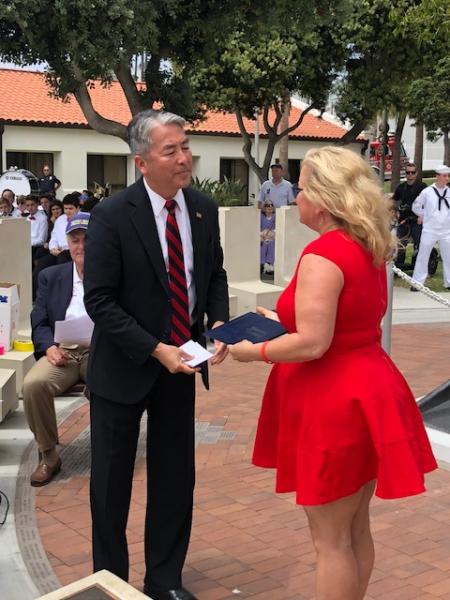 The City of Redondo Beach hosted its annual Memorial Day service at Veterans' Park, which features a memorial tribute to the U.S. military and veterans. This years' ceremony was particularly touching as we honored Vincent Barbee, a 16 year-old Sea Cadet from Redondo Beach, who passed away earlier this year. I presented an Assembly Memorial Resolution to his mother Martha. He was an incredible young man that I was proud to represent.
City of Torrance Memorial Day Service – Names on the Wall of Remembrance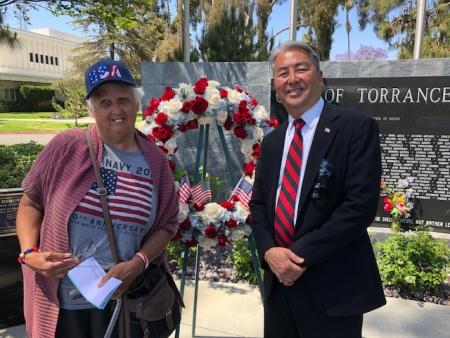 The City of Torrance hosted its annual somber Memorial Day ceremony by highlighting veterans who lost their lives in combat. Every Torrance resident who has ever died in combat for the U.S. Armed Forces is memorialized on a wall outside of City Hall. Each name was read on Memorial Day, with family and friends in attendance.
In this issue of the newsletter, you'll find information about:
---
Assembly Select Committee on Aerospace Informational Hearing:
"The Future of Travel: Issues in Commercial Space Transportation"
On May 9th, I chaired the Assembly Select Committee on Aerospace - Informational Hearing on "The Future of Travel: Issues in Commercial Space Transportation" at the State Capitol.
We discussed space travel, launch services and emerging industries. Testifying before the committee were Eva Behrend, Senior Manager, Communications, Space X, Will Pomerantz, Vice President of Special Projects, Virgin Orbit and Sean Casey, CEO, Silicon Valley Space Center.
The hearing concluded that California is successful because there is a commitment to STEM funding, an existing talented and ready workforce, strong apprenticeship programs, and diversity in supply chains. It was also noted that it's easy to bring people to California if companies can't find them here. California also has good relationships with local and state governments. It is also rich in its academics and research which enables the aerospace industry to advance its work and innovative processes.
We also discussed infrastructure and other states' experience and were joined by Karina Drees, CEO, Mojave Air and Space Port, Dan Gillen, Program Manager of the Harris Corporation Space Port Systems, and Sherman Council, Aerospace Engineer, Office of Commercial Space Transportation, FAA.
There are many challenges in helping the aerospace industry grow in California such as a need for a stable tax policy with no frequent changes and low housing costs. It has been difficult to accommodate the smaller, entrepreneurial companies with new space and start-ups, because the focus has been traditionally on the large companies.
Through the various discussions, we hope to craft future legislation and continue the dialogue to foster the innovative growth of aerospace in California.
---
Meeting with Starburst Accelerator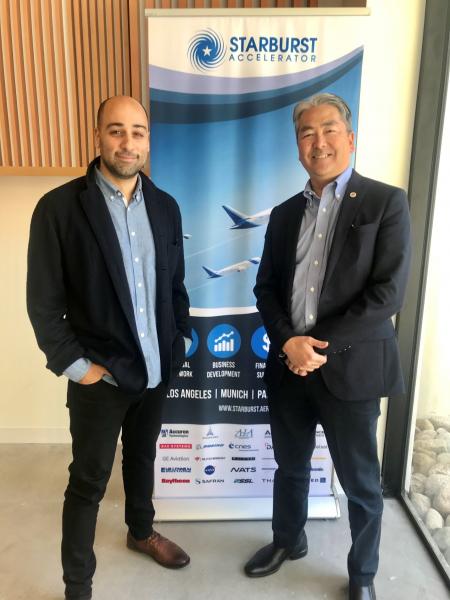 I recently met with Vandad Espahbodi, Co-Founder of Starburst Accelerator. Starburst is an innovation catalyst in the aerospace industry. It is the first and only global aerospace accelerator, connecting startups with corporates, investors and government by providing growth and investment opportunities for all. With offices in Los Angeles, Paris, Munich, Montreal, Sao Paolo, San Francisco and Singapore, the team has built an ecosystem of key players with thousands of startups in its network.
Their program helps startups scale their business in aerospace, aviation and defense with access to the largest group of corporate stakeholders to help them win their first $1 million + contract. I am happy they chose the South Bay area as its Los Angeles-area home at the Cross Campus co-working tech space. I look forward to working with Starburst Accelerator in helping new space growth in California.
---
Small Business of the Month – Hermosa Cyclery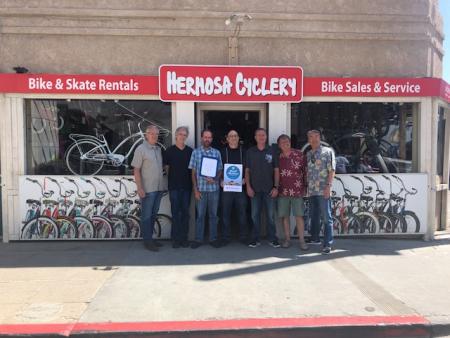 I was proud to present the AD 66 Small Business of the Month award to Steve Collins of Hermosa Cyclery. Hermosa Cyclery has served beach cities visitors and residents alike for over four decades. The late owner, Harold Schumaker, once said that "nearly every child in Hermosa Beach worked at (Hermosa Cyclery)." The bike store has continued to be an iconic destination in the South Bay and is a prime example of Hermosa's community-oriented culture.
---
Redondo Beach Police Department Surf Contest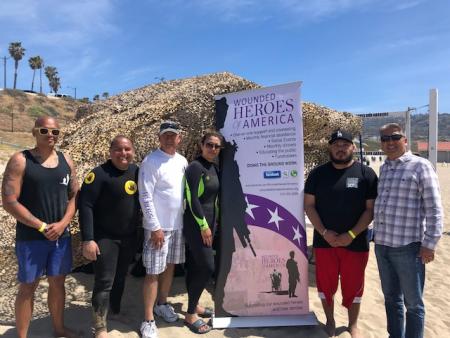 The Redondo Beach Police Department and the local Chamber of Commerce co-hosted its first ever surf contest! It was amazing to see and further advances the need for surfing as the official state sport! Surfers of all skill levels competed in the surf contest, including veterans with Wounded Heroes of America. One of the veterans had never surfed before but was supported by his teammates and they won first place. The healing nature of the ocean brings us all together and surfing is the perfect embodiment of California.
---
Rolling Hills Estates Annual Mayor's Breakfast Ride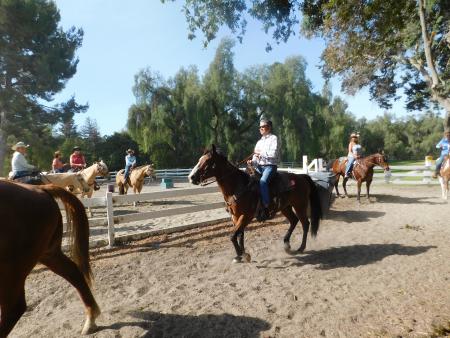 On Saturday, May 5th I joined Mayor Britt Huff, city officials, and members of the community for the Rolling Hills Estates Mayor's Breakfast Ride. We each rode a horse from Rolling Hills Estates City Hall to Ernie Howlett Park. There, we partook in a delicious pancake breakfast hosted by the local Boy Scouts chapter. Thank you Rolling Hills Estates for the invitation and for hosting this wonderful event every year!
---
Redondo Beach Business Walk
The North Redondo Beach Business Association hosted its annual "Walkabout" which allows Redondo residents and patrons to explore the Artesia business corridor. Special thanks to Redondo Beach City Councilmembers John Gran and Laura Emdee for showing me around!
---
Environmental Stewardship Award – The Sierra Club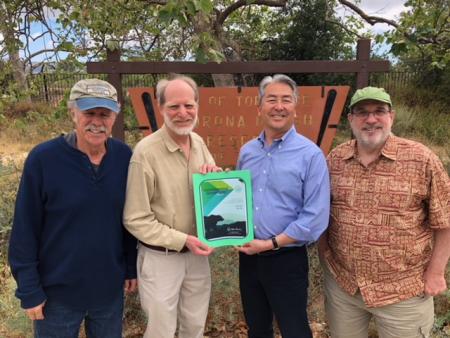 I was proud to honor the Sierra Club, Palos Verdes South Bay Chapter as my May Environmental Stewardship Award winner. The Sierra Club does great work to enact environmental policy at the state level and strives to educate the public about what we can do on an individual level to protect our environment. Thank you to the Sierra Club for fighting for clean air, conservation of resources, and the preservation of our natural environment.
---
El Camino College South Bay Promise Ceremony
On Saturday, May 11, I joined many of our local leaders in support of El Camino College and the El Camino College Foundation at their South Bay Promise Signing Ceremony. The South Bay Promise will provide students with a year of tuition free education along with comprehensive counseling to ensure students meet their requirements. This program is a testament to El Camino College's longstanding commitment to affordable education.
---
11th Annual Groundwater Festival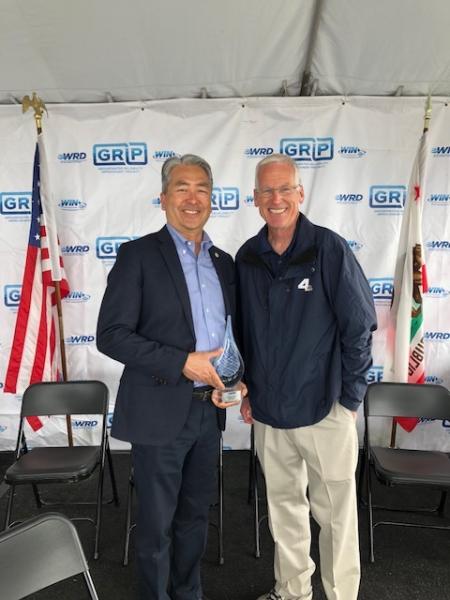 I was honored to be named a 2018 Ground Water Champion by the Water Replenishment District at the 11th Annual Ground Water Festival. The festival does a great job of educating people of all ages about water, conservation and the important environmental issues of our time. I was heartened to see so many young people attend this event who will become our next generation of environmental champions.
---
Fiesta Hermosa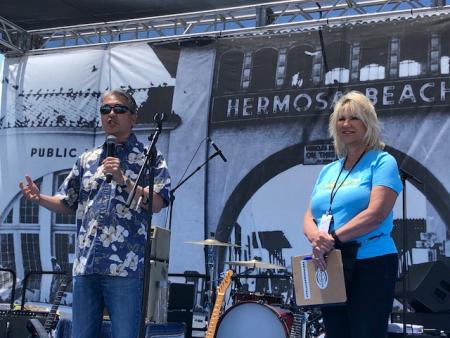 I was proud to kick off a great Memorial Day weekend with another Fiesta Hermosa, hosted by the Hermosa Chamber of Commerce. This amazing street festival features small businesses from around the South Bay, live music, and a special tribute to U.S. military veterans.
---
Small Business of the Month – Giuliano's Delicatessen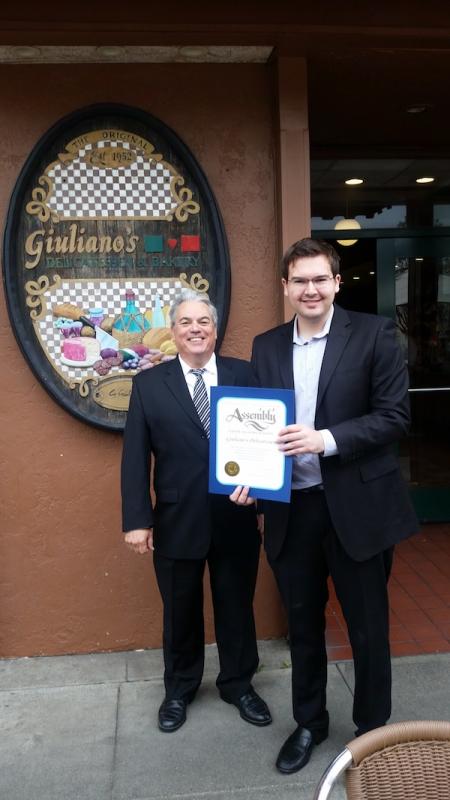 The Original Giuliano's Delicatessen & Bakery is my Small Business of the Month for May. My Staff Member Aret Frost presented the award to Giuliano's owner, Rick Giuliano. Giuliano's has been an institution in the Gardena community since opening its doors in 1952. With its fresh baked breads and abundant selection of deli food, Giuliano's continues to provide great service at affordable prices.
---
CSF Sealbearer Reception at West High School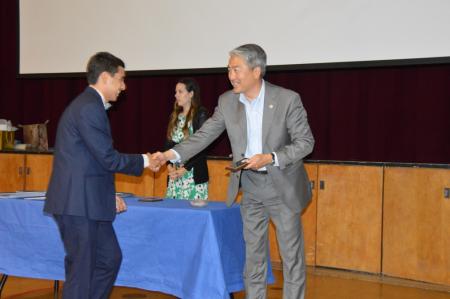 I was honored to be the guest speaker at the West High CSF Seal bearer Reception. Students who attain the title of Seal bearer are part of a long tradition of California students who go above and beyond both in their academic pursuits and in their community service. In addition to recognizing Seal bearers, we also recognized members of the CSF board who work hard to make the organization special. These students make the South Bay proud and I am excited to see what they will accomplish in the coming years.
---
What's up in AD 66 next month?  Here are a couple of events:
June 14 – Torrance Adult School Graduation Ceremony, Torrance
June 23 -- Nex-Gen Now Scholarship Awards Breakfast, Torrance
June 30 – Child Road Safety Day Fair, Torrance
June 30 – Ask Al, Coffee and Conversation, Lomita
June 30 – Founder's Day, Lomita