March 2018 Newsletter

The Muratsuchi Monthly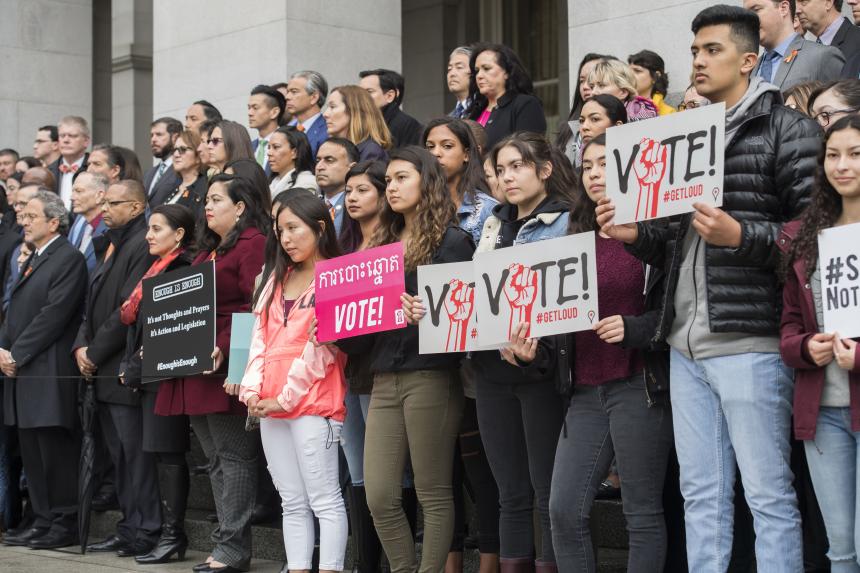 This month marked the poignant one month anniversary since the tragic shooting of 17 students and teachers at Marjory Stoneman Douglas High School in Parkland, Florida.  Like many Americans, I was heartbroken for the students, teachers, and parents who experienced these horrific events, and was honored to participate both in the South Bay "March for Our Lives" and the California State Assembly "Student Walkout" in Sacramento.  Both events were part of nationwide events organized to call for an end to gun violence and for common sense gun reform.   
The legislative "Student Walkout" included many members of the California State Assembly, Legislative staff, and Sacramento-area students.  The South Bay "March for Our Lives" was put on by South Bay moms as part of the South Bay Coalition for a Safer Tomorrow.  Over 5,000 of our neighbors and friends attended the march from Manhattan Beach to Hermosa. Together, we called for a nationwide ban on assault weapons and more comprehensive background checks, but words are not enough.  In California, we have introduced legislation to allow school officials to petition a court to remove firearms from an individual when they believe that the person is an "immediate and present danger" to themselves or others.  Together we must work towards a safer school environment so kids can just be kids.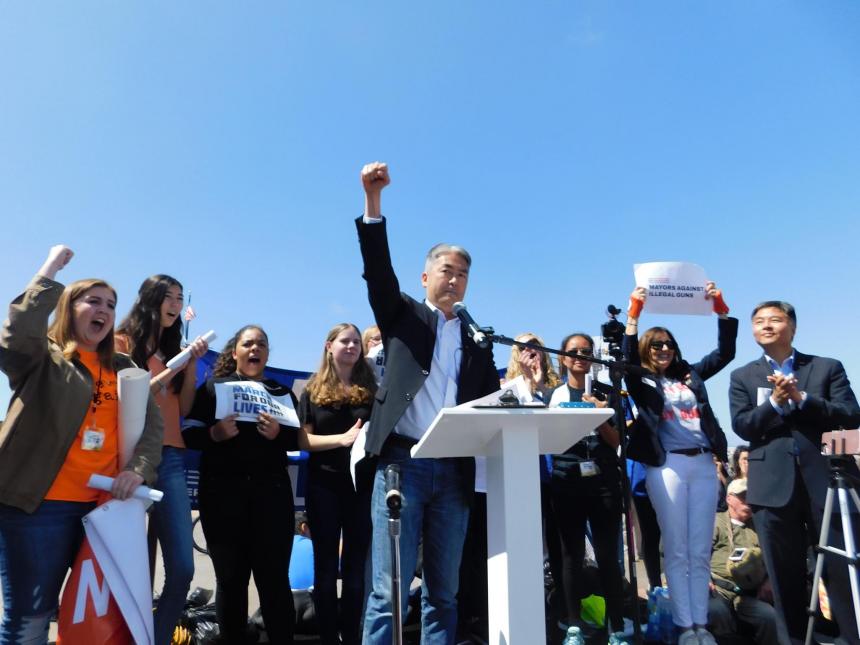 In this issue of the newsletter, you'll find information about:
---
Woman of the Year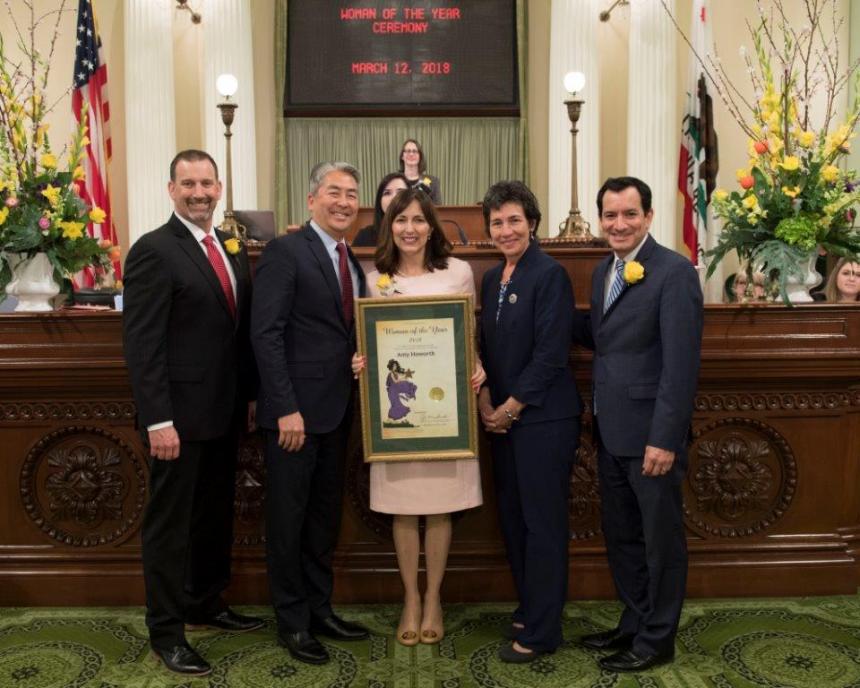 This month, I named Amy Howorth, Mayor of Manhattan Beach, as my South Bay Woman of the Year in Sacramento.  Serving her second term as Manhattan Beach City Councilmember, Mayor Howorth has been a South Bay resident for 21 years.  Prior to serving on the Manhattan Beach City Council, she served two terms on the Manhattan Beach school board.  While Mayor, she successfully championed a city-wide ban on smoking and was a major proponent of both the newly completed Manhattan Beach Skate Park and the county library in Manhattan Beach.   As a school board member for eight years, she championed increased access for young women to the sciences and the passing of a $67 million bond that resulted in new buildings and classrooms for students.  She is a founding member of South Bay Cares, a socially-minded non-profit dedicated to advocating for rights through community action, and is a lifelong Girl Scout who frequently speaks to local Girl Scouts about empowering young women to "ask for what you want." Congrats to Mayor Howorth!
---
Torrance Aquatic Center Grand Opening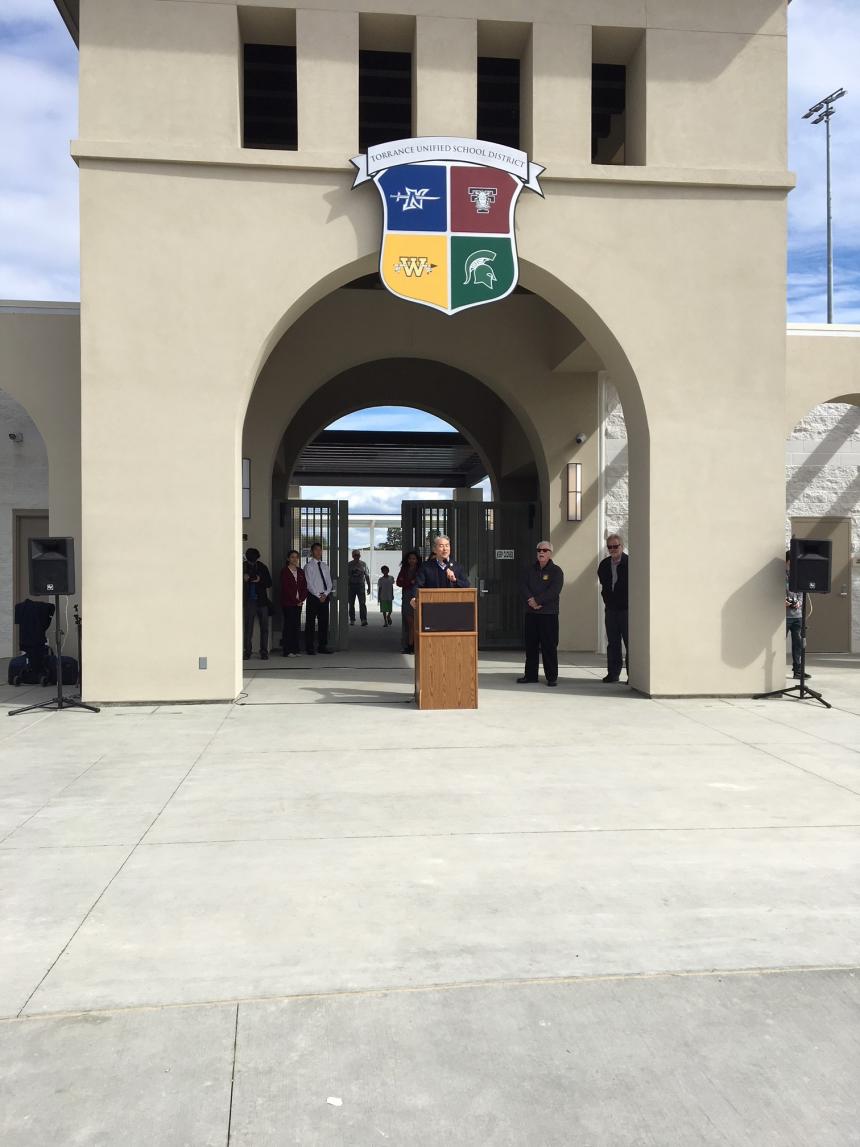 In March I was honored to be a part of the Grand Opening of the Torrance Aquatic Center.  Standing with my former colleagues on the Torrance School Board, the Torrance City Council, and Superintendent George Manon, we celebrated the culmination of years of hard work.  A hug e thank you to the people of Torrance for voting to make this project possible.  From my conversations with parents and student athletes, I know how important this facility will be for generations of Tartars, Spartans, Saxons, and Warriors.
---
Nature Conservancy Tour of Henrietta Basin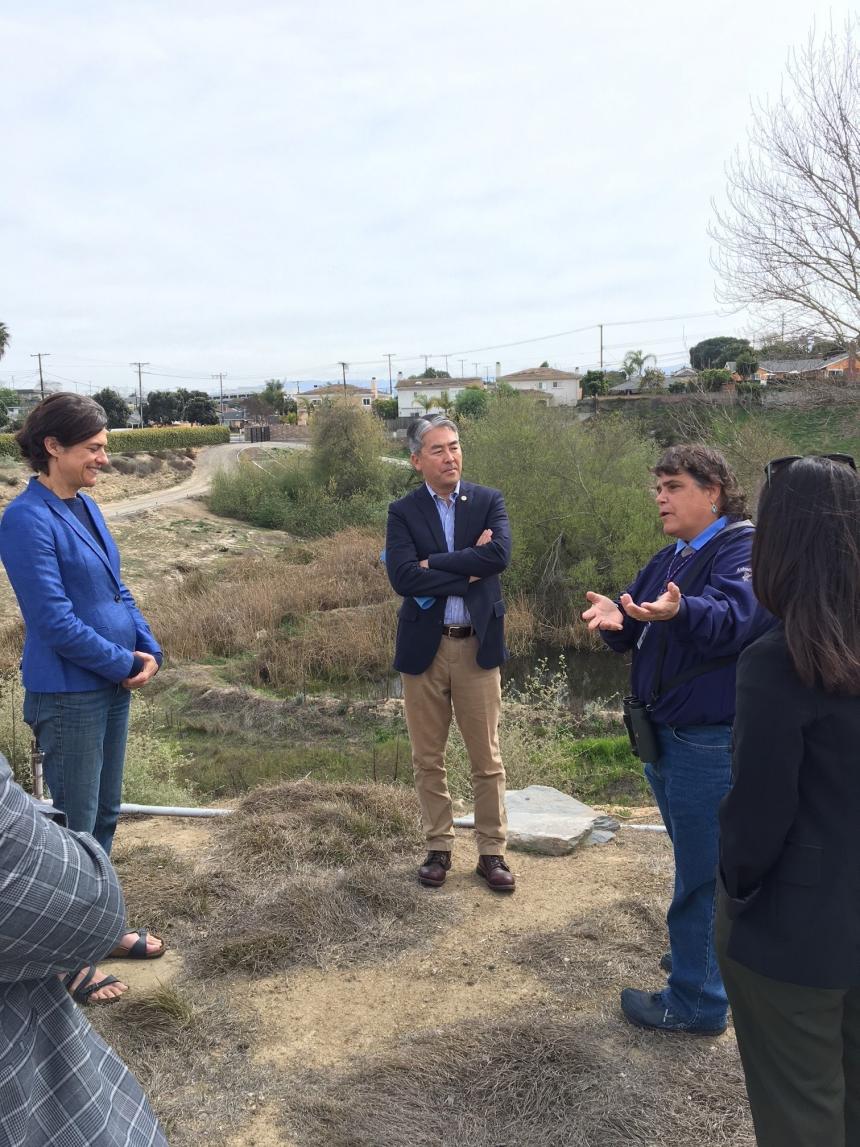 On March 9th I shared an informative afternoon with The Nature Conservancy, Heal the Bay, LAANE, Friends of Madrona Marsh and Senator Diane Feinstein's office learning about multi-benefit ecosystems like the Henrietta Basin in Torrance.  In addition to collecting and naturally filtering storm water, the site acts as a haven for birds, native plants, and as a natural classroom for students.  Multi-benefit sites like the Henrietta Basin are excellent examples of how we can use public spaces to address concerns like storm water treatment in sustainable ways while educating the next generation of conservationists to create much needed habitats in the south bay.
---
Torrance Firefighters Spaghetti Feed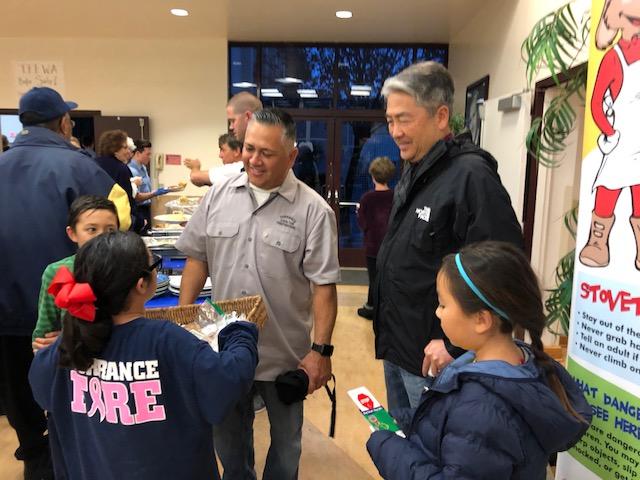 On March 10th, the Torrance Firefighters Association hosted its 47th Annual Spaghetti Dinner & Bake Sale to support the Alisa Ann Ruch California Burn Foundation Summer Camp for burn patients. In the last 47 years that this fundraiser has taken place, the Torrance Firefighters Association has served over 50,000 meals and raised over $200,000 for "Champ Camp". I brought my family and joined hundreds of Torrance residents to support the Firefighters Association and burn survivors.
---
Small Business Advisory Council Meeting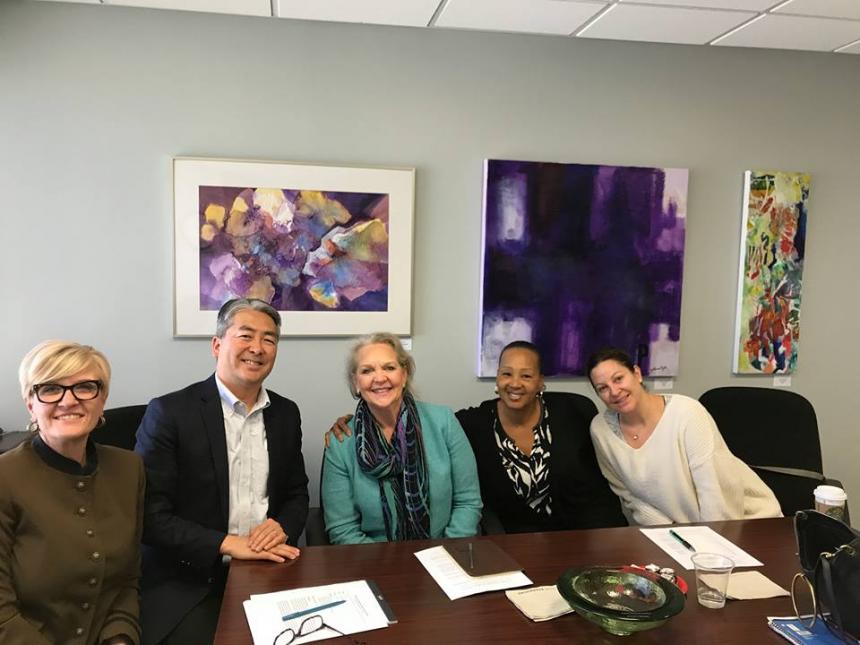 The AD66 Small Business Advisory Council convened for the second time this year on March 16th. Laurie Brandt of the Torrance Area Chamber of Commerce, Wanda Love of Gardena Chamber of Commerce, Eileen Hupp of Palos Verdes Chamber of Commerce, and Lori Ford of Gum Tree Café kept me informed of issues that small businesses are facing throughout the South Bay. The Chambers' of Commerce also brought various young entrepreneur programs to my attentions that are teaching our middle and high school students how to start and run a small business.
---
Ann Garten Retirement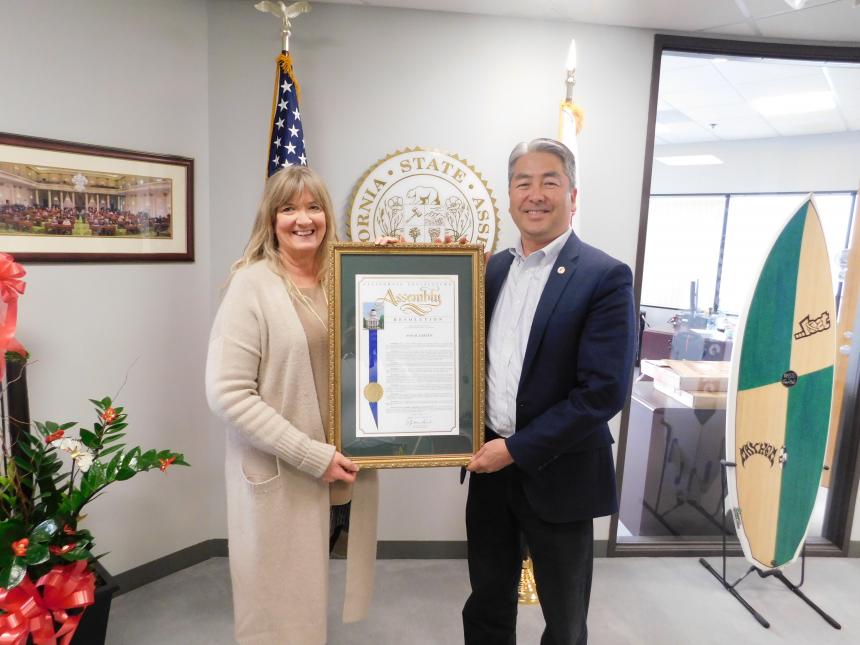 I presented Ann Garten an Assembly Resolution for her career of dedicated service to El Camino College. Garten is an award-winning public relations and marketing professional whose career spans 30 years of service to the community and public education.
A Redondo Beach resident for 33 years, Garten has contributed to the South Bay community through her volunteer work with various civic organizations and via her professional life as the Director of Community Relations at El Camino College for the past 17 years. Congratulations Ann!
---
Torrance Council of PTAs Honorary Service Awards
On March 16th I was honored to join the Torrance Council of PTAs for their Honorary Service Awards recognizing the contributions of individuals and organizations that have selflessly given their time to ensure Torrance students have the best possible educational experiences.  This is one of my favorite annual events as we come together to recognize those who care enough to give their time to better their community without compensation or expectation of anything other than a better school experience for our students.  Congratulations to all the honorees!
---
St. Patrick's Day Parade in Hermosa Beach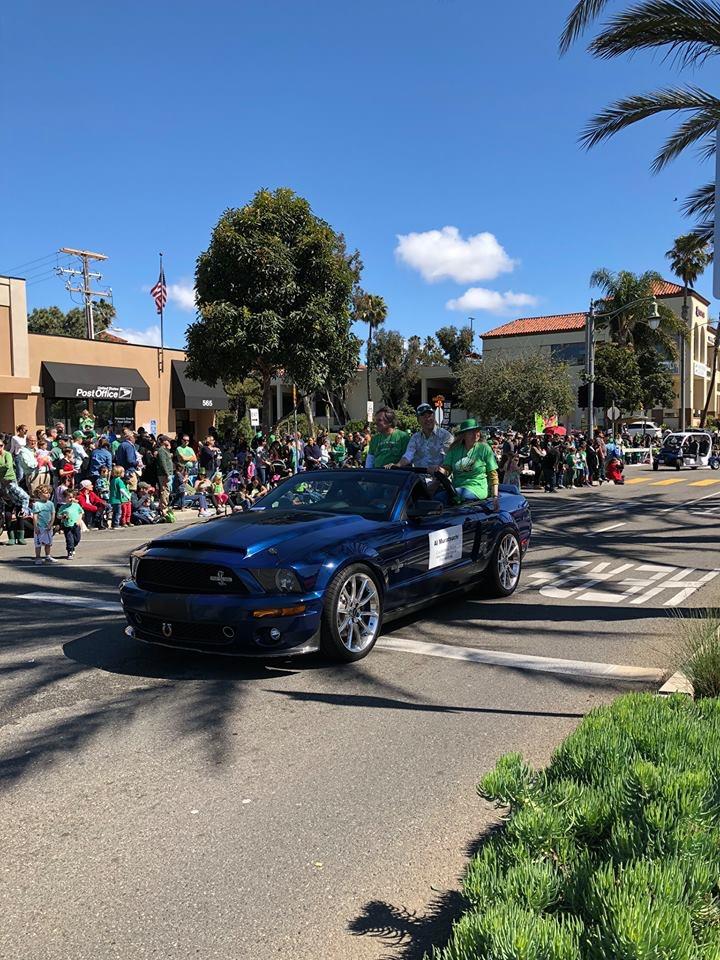 It was a beautiful St. Patrick's Day in Hermosa Beach for the 24th annual parade.  I joined thousands of South Bay residents for this iconic parade, along with the unofficial Mr. and Mrs. Hermosa, Dency and Moira Nelson.  Special thank you to Jason Lord for the ride.
---
A Visit to Temple Menorah in Redondo Beach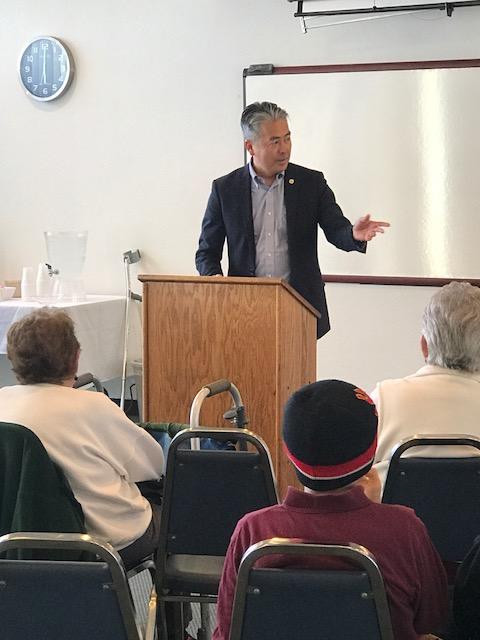 As part of the upcoming annual Pilgrimage to Manzanar (one of 10 concentration camps in which Japanese Americans were incarcerated during World War II), I spoke to the congregation at Temple Menorah in Redondo Beach about the shared historical experiences in World War II of both the Jewish and the Japanese-American community.  I, along with members of the Temple who will participate in this year's pilgrimage, spoke about how Japanese-American families in Torrance and throughout California were forced to leave their homes and businesses to live in concentration camps solely because they were of Japanese descent.
---
Ask Al, Coffee and Conversation, Gardena City Hall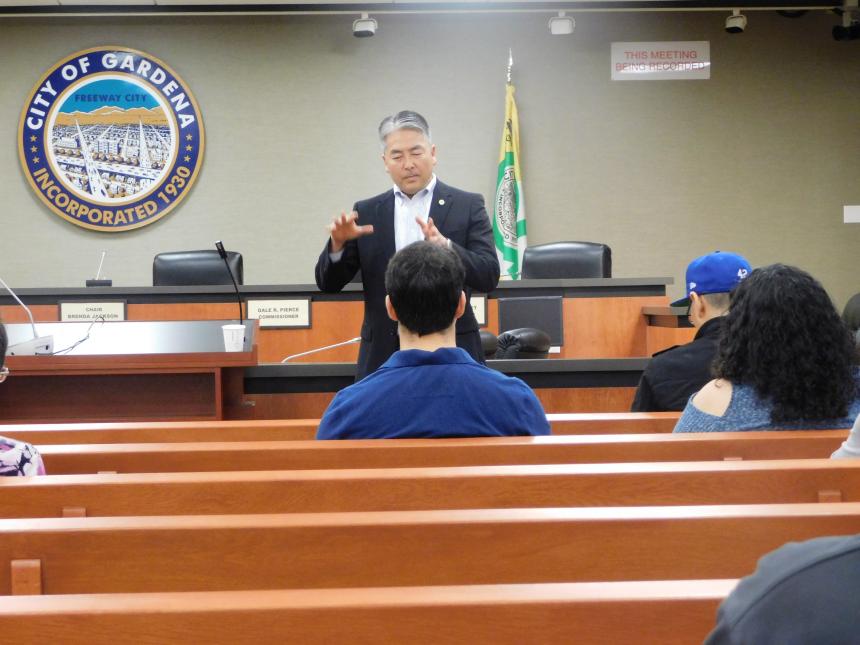 I was happy to host my monthly community coffee on March 24th. It was a pleasure to discuss topics such as affordable housing, refinery safety, education, and offshore oil drilling with residents of Gardena. Thank you to all who attended, especially the City of Gardena for allowing me to hold this event at City Hall.
---
Tour of PVE Police Station
Newly sworn-in Palos Verdes Estates Police Chief Mark Velez invited me for a tour of the police station on March 26th. I met the fantastic detectives, community relations officers, and many more members of the PVE Police Department. As a former prosecutor, public safety has always been one of my top priorities. I look to the great law enforcement leaders in the South Bay, like Chief Velez, to advise me on public safety issues and solutions.
---
Craft Brewer Roundtable
The South Bay is home to a growing number of craft breweries who create one-of-a-kind beers that draw many individuals in from various parts of Southern California. I enjoyed meeting with Jason Kolb, Scholb Premium Ales, Inc., Laurie Porter, Smog City, Nigel Heath, Absolution Brewing Company, and Jorge Delgado, Hermosa Beach Brewing Company.  We discussed the challenges and successes craft brewers are facing in the booming industry of craft beers. A big thank you to Scholb Premium Ales, Inc. for hosting this meeting at their brewery. I am excited to see the culture and community that craft brewers have brought to the South Bay and especially to Torrance. I look forward to continuing the dialogue and supporting these growing small businesses.
---
What's up in AD 66 next month?  Here are a couple of events:
April 6 -- State of the State, Torrance Area Chamber of Commerce
April 7 -- The Vietnam Veteran's Traveling Memorial, Gardena
April 7 -- Bunka Sai Japanese Cultural Festival, Torrance
April 14 -- Ask Al, Coffee and Conversation, Palos Verdes Peninsula Center Library
April 14 – A Black and White Affair, Fundraiser for Torrance Education Foundation, Torrance
April 28 -- Ask Al, Coffee and Conversation, Beach Cities Health Care District, Redondo Beach
April 28 – Spyder Surf Festival, Hermosa Beach