July 2018 Newsletter

The Muratsuchi Monthly
Fun in the Sun!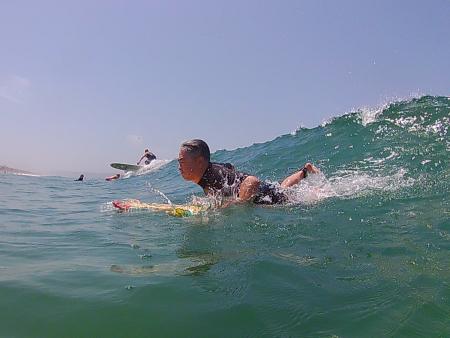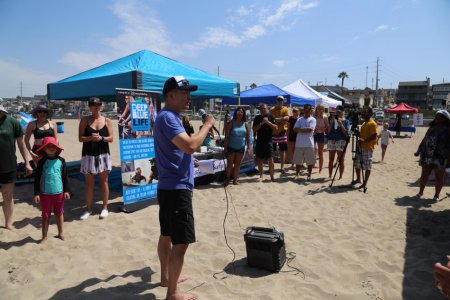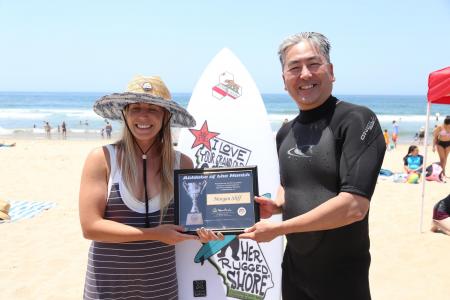 With AB 1782 passing the Legislature, we are about to have surfing as the official sport of the State of California! To celebrate this, I co-hosted a Family Surf Day at El Porto in Manhattan Beach with Sustainable Surf. We were joined by some fantastic eco-friendly companies and non-profit organizations, such as Surfrider Foundation, Spyder Surf, 7till8 Wetsuits, Suja Juice, Harmless Harvest and Raw Elements. Legendary South Bay shaper Mark Brog and his apprentice Matt Wilson offered free surfing lessons. Finally, Morgan Sliff, a professional surfer from Hermosa Beach who surfed for a record 1000 days straight, was surprised with the first ever Featured Athlete of Assembly District 66 Award.
In this issue of the newsletter, you'll find information about:
---
Taste of AD66 – Bob's Hawaiian Style Restaurant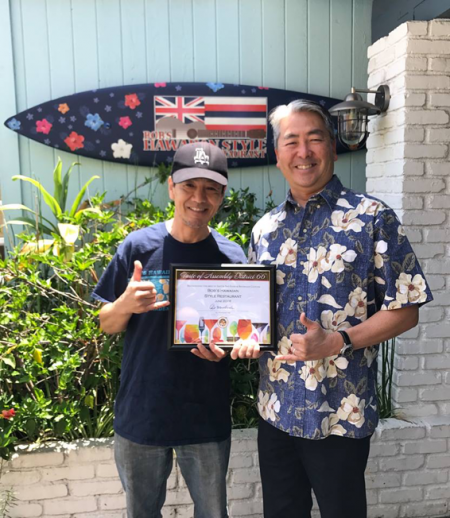 Gardena's own Bob's Hawaiian Style Restaurant is my monthly honoree for the Taste of Assembly District 66 Award! Celebrating the wonderful diversity of great food in the South Bay, July's award goes to Bob's great authentic Hawaiian food and music! Owner Kimi Sato shared his joys and challenges of running a small business. I highly recommend their lau lau and kalua pork!
---
Child Road Safety Day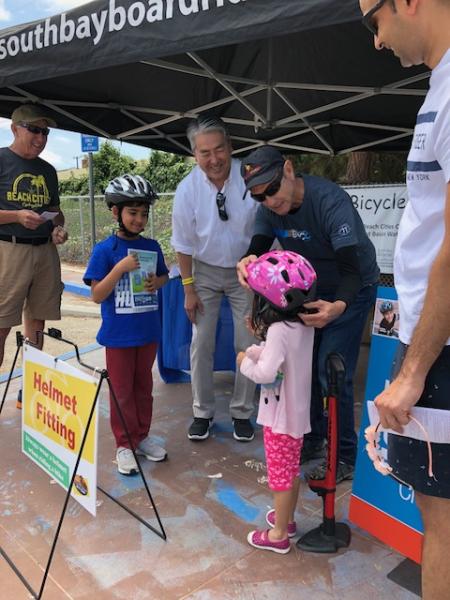 On June 30th I hosted the 2nd Annual Julian Katz Memorial Child Road Safety Day at West Torrance High School. Julian Katz was a dedicated activist in the South Bay and was integral in making the Beach Cities a safer place to cycle. His organization, South Bay Bicycle Coalition, provided free bike helmets, taught parents how to properly fit helmets on their child's head, and trained kids in proper bike safety through an obstacle course. The California Highway Patrol also provided free car seats and taught parents how to properly install them.
---
Ask Al, Coffee and Conversation, Lomita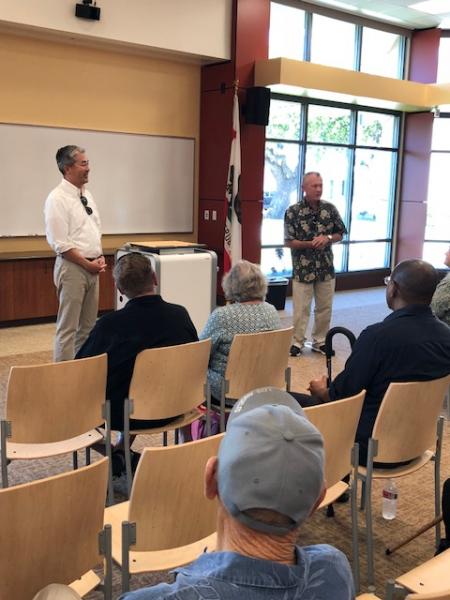 My monthly community coffee sessions came to The Friendly City this month! I was thrilled to be joined by Mayor Mike Savidan and the wonderful people of Lomita. We had a fruitful discussion about the future of public transportation, increasing school funding, and protecting Prop 13.
---
Lomita Founder's Day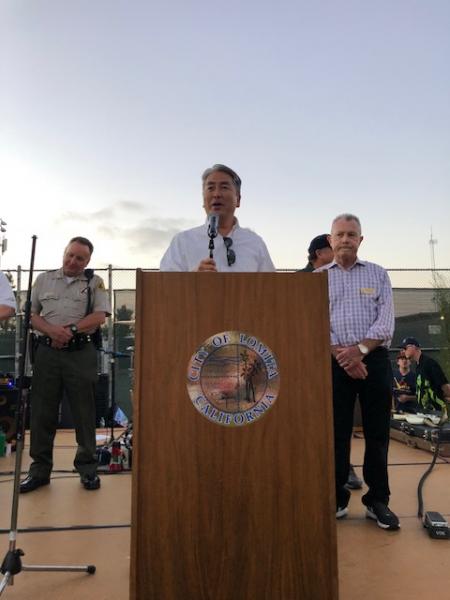 Following the "Ask Al" in Lomita, I joined the rest of the City at the annual Founder's Day celebration! I enjoyed the fireworks show, great food, and, most of all, the company of the friendliest city in the South Bay. I hope that there will be many more thriving years to come for the City of Lomita.
---
Downtown Torrance Art Walk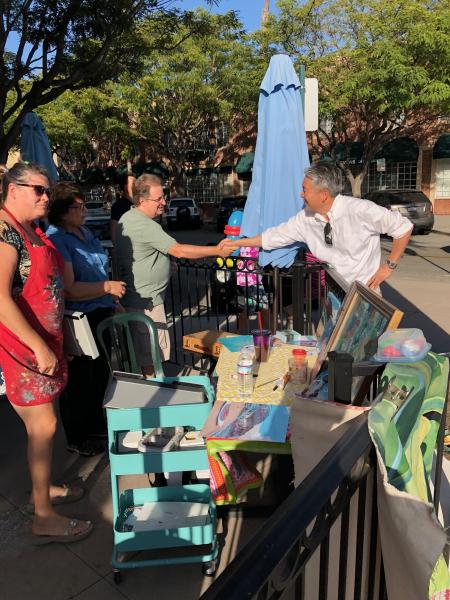 I was honored to join the Downtown Torrance Association and Destination: Annual Art Walk.  I welcomed Organically at Your Best to the neighborhood and thanked long-standing institutions like the Torrance Historical Society and Tortilla Cantina for their ongoing commitment to the local arts community.  Congratulations to all the artists that were recognized and thank you to all the small businesses that participated!  I look forward to next year.
---
Environmental Stewardship Award – South Bay Business Environmental Coalition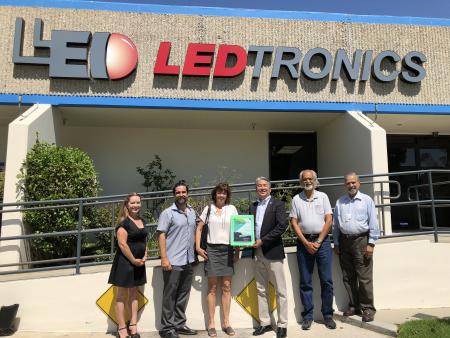 I presented my July Environmental Stewardship Award to the South Bay Business Environmental Coalition (SBBEC).  The SBBEC provides its members with the opportunity to network with other professionals from environmentally-friendly businesses as well as provide advice on how to cut costs while doing what is right for the environment.  I am proud that my office also supports their annual SoCal Environmental Excellence Development (SEED) awards that honor local individuals, groups and businesses that are working to improve environmental sustainability and quality of life in the South Bay. Thank you to LEDtronics for hosting the award presentation on July 6th. 
---
Gardena Business Walk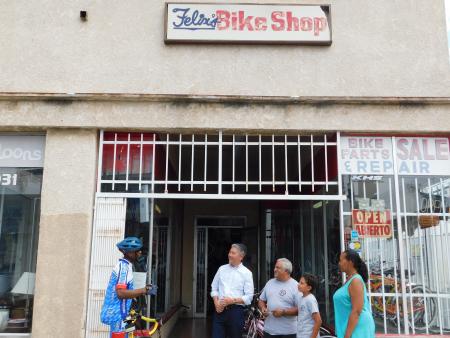 Wanda Love and the Gardena Chamber of Commerce hosted me on a walk through the historic Gardena Blvd. Small businesses, like Felix's Bike Shop, have thrived in Gardena for decades, some even passing down through multiple generations. I had the opportunity to get to know these business owners and the challenges they face. I will continue to fight for small businesses, which are the backbone of the California economy.
---
Manhattan Beach Fire Department Tour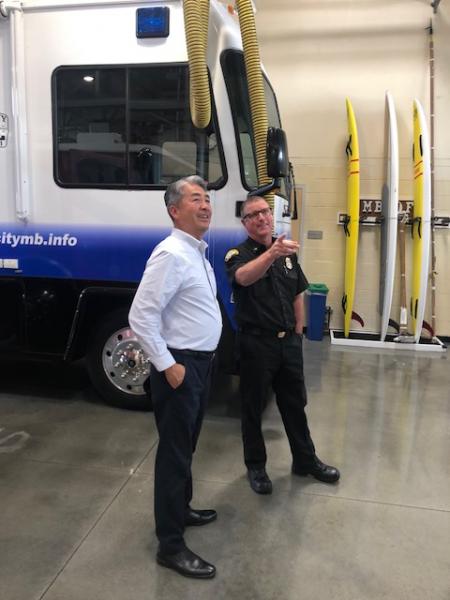 On July 9th I toured the Manhattan Beach Fire Department with Interim Chief Derrick Abell and the firefighters on duty. They have an amazing facility with all of the resources they need, thanks to the great Manhattan Beach community. These dedicated firefighters have helped save homes and lives throughout the State of California, especially with the increase in wildfires this year.
---
Torrance Memorial Tour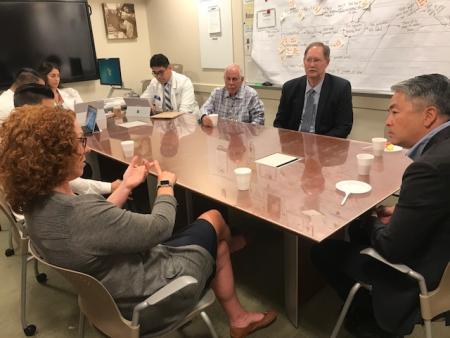 Torrance Memorial Medical Center's Department of Pharmacy invited me to tour their facilities on July 10th. I spoke with pharmacy administration to discuss inpatient pharmacy technology, patient safety, clinical activities, and relevant legislative issues. I also had the opportunity to meet some of the department's pharmacy students. I would like to extend a thank you to Kenn Horowitz and Steven Thompson for inviting me on the tour and to Torrance Memorial Medical Center for allowing me to come.
---
City Lights Gateway Foundation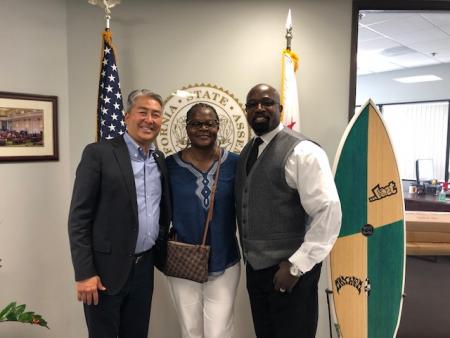 Re-connecting with an old friend and making a new one, I met with City Lights Gateway Foundation to discuss how we can improve the lives and futures of children in Harbor City. Howard Scott Jr. founded this organization with the philosophy, "The best way to stop a bullet is with a job." Scott and his childhood friend and my former JLAC consultant, Debbie Meador, have joined forces to help keep kids safe and off the streets.
---
Chili Cook Off, Manhattan Beach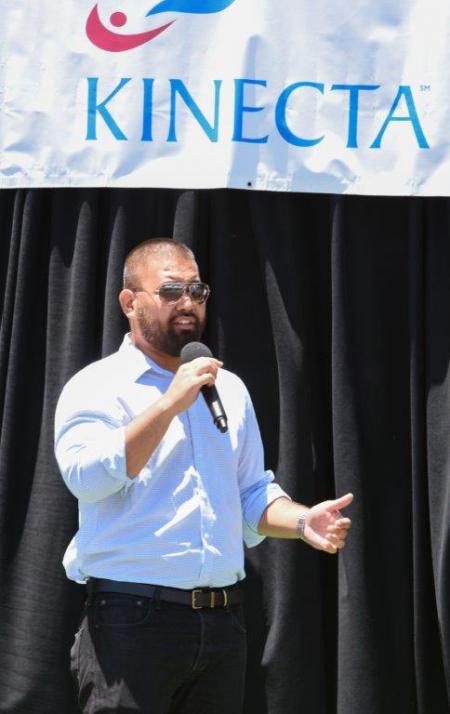 My staff attended Kinecta Credit Union's annual Chili Cook Off on July 14th. This annual event featured about a dozen different chilies to taste and entertainment for the whole family to enjoy.
---
Los Angeles Homeless Services Authority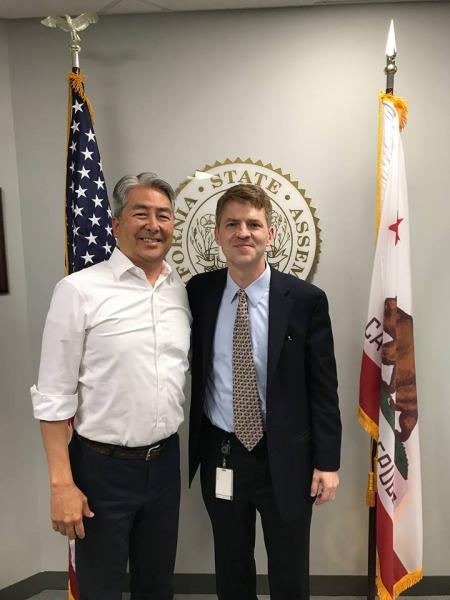 Peter Lynn, Executive Director of LAHSA, briefed me on the challenges of solving the housing and homeless crisis of Los Angeles on July 17th. We discussed the results of the Homeless Count- initiatives that were successful in other large cities, and the underlying causes of homelessness in Los Angeles and the South Bay, specifically.
---
Metro Gold Line Tour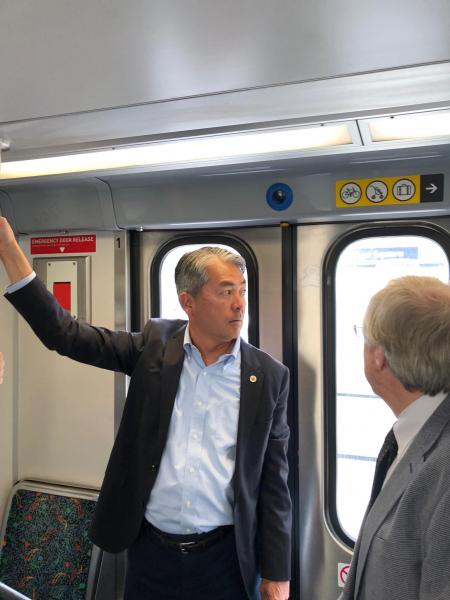 With the Metro Green Line being extended to the South Bay by 2028, Metro staff invited me on a tour of the Gold Line in Pasadena. I was impressed with how the Pasadena community has developed around the Gold Line and the various stations. Transit-oriented housing has become highly desirable, especially with Pasadena evolving into a walk-friendly community.
---
California Small Business Association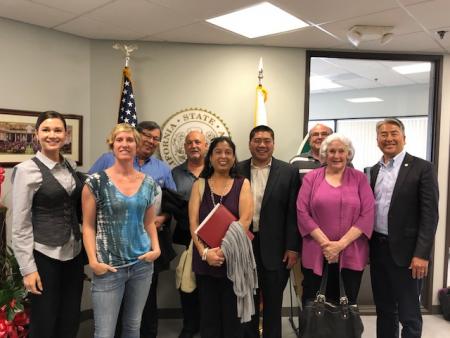 CSBA and President Betty Jo Toccoli organized a discussion with local small business owners in the South Bay on July 18th. We talked about the challenges of owning a small business in California and how we can work together to make it easier. The businesses ranged from South Bay stalwarts like Redondo Marine Hardware, Shin-Sen-Gumi Restaurants, and The San Franciscan, to new leaders like Gum Tree Shop & Café and Smog City Brewing. I look forward to continuing this conversation and working together.
---
Manufacturing Roundtable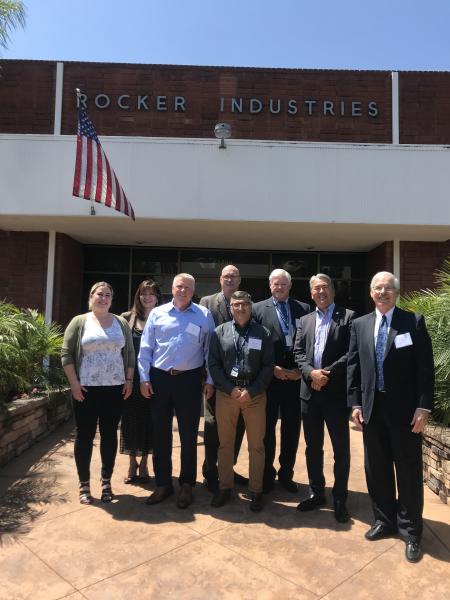 Assembly District 66 serves as one of the largest manufacturing areas in California. I met with several from the district such as Rocker Industries, U.S Hybrid, Edelbrock, and 3V Signs & Graphics. We discussed the challenges that they are facing such as high costs of rent and insurance. I look forward to finding ways to help with buying local and California-made products including statewide incentives to keep our jobs in California. Thank you to California Manufacturing Technology Consulting for a productive meeting and to Rocker Industries for hosting us at their headquarters and providing a tour to learn about their work in aerospace.
---
Hermosa Beach Education Foundation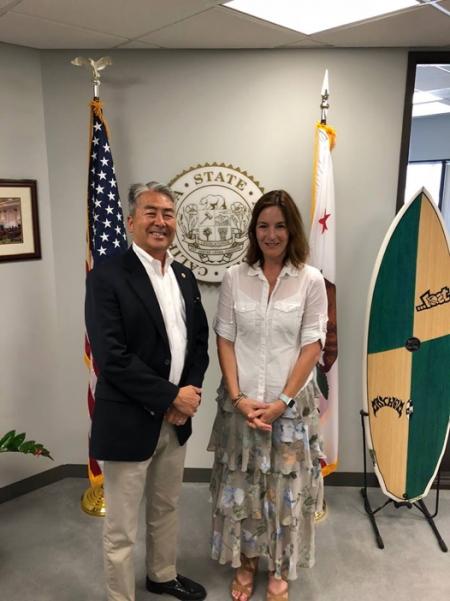 I met with new Hermosa Beach Education Foundation President Carol Kluthe today to discuss her priorities in the role and funding for Hermosa Beach Schools. As a former school board member, education funding continues to be my top priority. I am currently fighting to increase funding through my bill, AB 2808, for all K-12 public schools in California. With support from local parents and teachers we can make sure that our students get the resources and world-class education they deserve!
---
Tour of a Los Angeles County Animal Care Center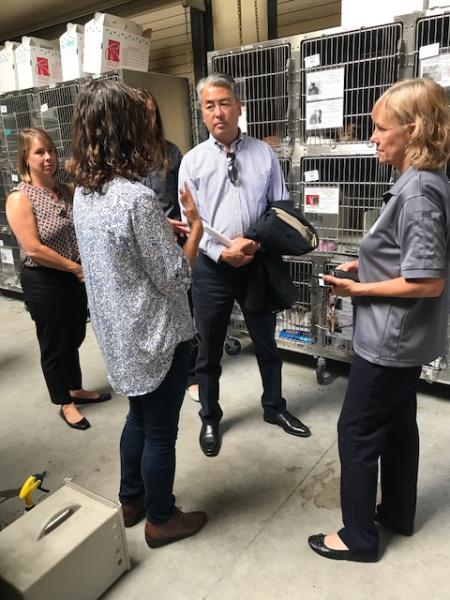 I visited the Downey Animal Care Center to learn more about how my bill, AB 2791, will help save Los Angeles County's kittens and puppies. The bill, which will allow rescue groups to immediately adopt, rather than wait three days as is currently required, un-weaned kittens and puppies from the shelter. This will prevent at-risk animals from becoming sick at the shelter in their first weeks of life, and reduce overcrowding. I also learned about the ASPCA Community Engagement Team and the services they provide to current and future pet owners, as well as their programs for vaccinations, spaying/neutering, and animal socialization.
Thank you to Allison Cardona, Deputy Director of Los Angeles County's Department of Animal Care and Control, Shannon Asquith, Downey Animal Care Center Manager, and Devon Frazier, ASPCA's Director of Community Engagement in LA for the tour. Thank you to Susan Riggs, ASPCA Senior Director of State Legislation – Western Region for setting up the tour.
---
Manhattan Beach Education Foundation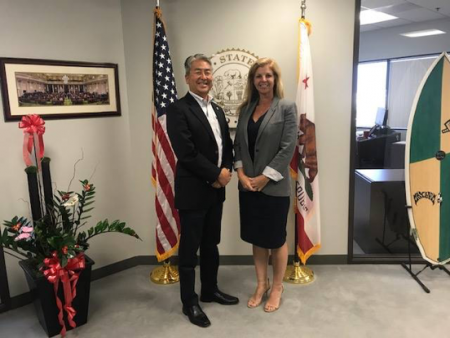 Manhattan Beach Education Foundation (MBEF) executive director Hilary Mayan visited to my South Bay office. MBEF is an amazing fundraising machine that raises over $6 million every year to support K-12 education in Manhattan Beach through class size reduction, academic counseling services, music and arts classes and STEM programs. We also discussed my Assembly Bill 2808 which would increase school funding for all public schools. Thank you Hilary and MBEF for your amazing support for Manhattan Beach students!
---
What's up in AD 66 next month?  Here are a couple of events:
Aug. 1st -- International Surf Festival
Aug. 4th – Ask Al, Coffee and Conversation, Harbor City
Aug. 11th – Pet Adoption Fair, Wilson Park, Torrance
Aug. 12th – Torrance Chamber's Summer Fest 2018, Torrance
Aug. 13th -- Gardena Valley Baptist Church Ice Cream Social, Gardena
Aug. 16th -- Fight Like the Averys Fundraiser, Hermosa Beach
Aug. 25th – Children's Health Fair, Harbor-UCLA Hospital
Aug. 25th – Lomita Railroad Community Day