January 2018 Newsletter

The Muratsuchi Monthly
Hello! Hoping that you enjoyed a festive holiday season and Happy New year! This year started off on the right foot, and busy as ever. From walking alongside hundreds of women during the second annual South Bay Women's March, to taking care of our veterans, supporting community events and functions - while ensuring my work here in Sacramento is for the greater benefit of the residents living in the South Bay, this year is just the beginning to what I hope will be a successful and productive one. Included in this newsletter is a short recap of a strong start to the New Year.
In this issue of the newsletter, you'll find information about:
Second Annual Women's March
Veterans Essentials Drive
Education Budget Update
Slack Key Festival
Gardena's MLK Parade
South Bay School Board Presidents Meeting
4th Annual South Bay Legislative Meet & Greet
Grades of Green Youth Corps Green Festival
Enviro Stewardship Award: Madrona Marsh
What's up in AD 66 Next Month?
---
Second Annual Women's March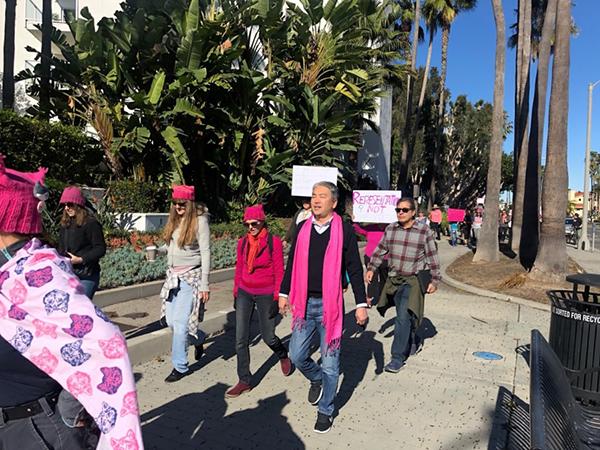 Photo credit: Assemblymember Muratsuchi staff
This year, I proudly walked side-by-side with the women in Redondo Beach in the second annual South Bay Women's March.  In a year that saw the #MeToo movement, which highlighted sexual harassment and sexual assault on women, the march was ever more important.  It represented our continued fight against the Trump administration's policies.  In California and in the South Bay, we proudly stand for civil rights, women's rights and protecting the environment, and we will continue to fight for those strong values this year.
---
Veterans Essentials Drive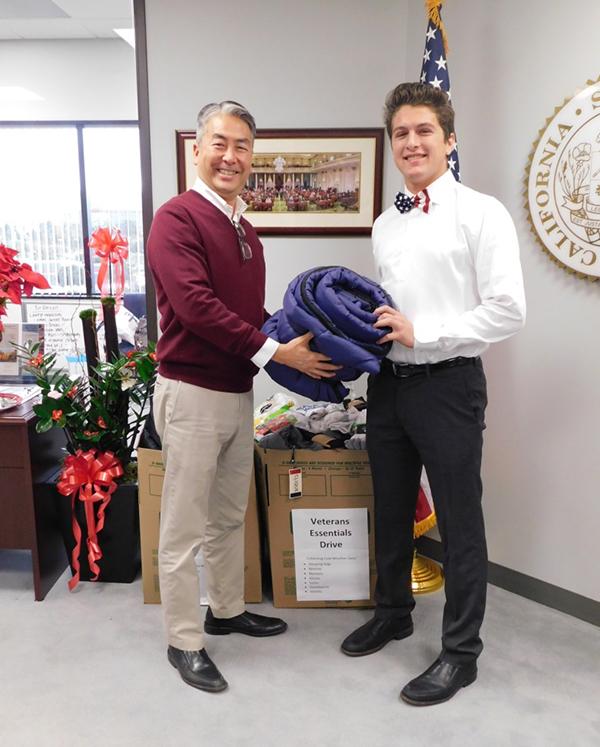 Photo credit: Assemblymember Muratsuchi staff
This month, Palos Verdes Peninsula High student John Zuercher picked up donations that my office collected through our Veterans Essentials Drive, which ran through the holidays. We collected clothing, sleeping bags, toiletries and other essentials for local veterans in need.   Zuercher started the Veterans Appreciation Club at Peninsula High and has organized four collection drives so far with a club of about 35 regular members. I am proud to have partnered in Zuercher's great efforts for our veterans. Great work, John!
---
Education Budget Update
The Governor's 2018-19 Education Budget looks promising with a proposed increase in funding for K-12 and full implementation of the Local Control Funding Formula (LCFF). This year, K-12 funding will reach $78.3 billion, which is an incredible recovery from the 2011-12 low we experienced during the height of the recession.
While full implementation marks a huge accomplishment and an important benchmark in California school funding, districts throughout the state will continue to face a dilemma: the inadequacy of base funding to cover increased fixed costs imposed since the creation of the LCFF.  Districts locally and throughout the state project filing qualified budgets – uncertain of their long term funding- while others are considering teacher layoffs.  We can and must do better for our students and I look forward to engaging in robust policy and budget discussions about how to best address these financial challenges.
The Governor will also be addressing fiscal transparency for schools in this year's budget.  I have supported fiscal transparency at the district level and I support the Governor's proposal to require school districts to create a link between their local accountability plans and their budgets to show how funds are being spent.  I will work closely with the administration and my colleagues on this portion of the budget.
Finally, we will see increased funding for the UC, CSU, and Community Colleges in this year's budget with the goal of increasing student access system wide.  The proposed funding increase for the UC and CSU will ensure that in-state tuition costs do not rise, while at the same time increasing student achievement and success.  The budget proposes the creation of California's first online community college, which will improve access and increase affordability of credentials that lead to higher paying jobs and careers.  I am excited by the prospect of these proposals and strongly support greater in-state access to and affordability of our state's higher education system.
---
Slack Key Festival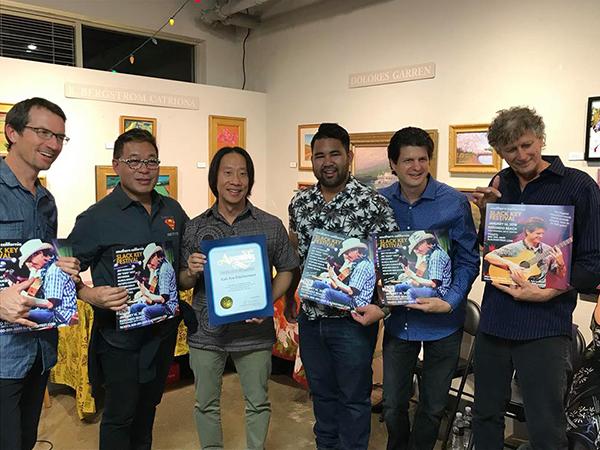 For the 11th year in a row, the Redondo Beach Performing Arts Center hosted the Southern California Slack Key Festival. This event celebrated traditional Hawaiian music and featured popular artists like Ku'uipo Kumukahi, Ho'okena, and Alan Akaka. The Office of Assemblymember Muratsuchi attended the festivities over the weekend of January 13th and presented a Certificate of Recognition to Kala Koa Entertainment, the organizers of the festival. Destination: Art, a Torrance non-profit, hosted a small reception with the artists and local fans, pictured above.
---
City of Gardena's Dr. Martin Luther King Jr. Day Parade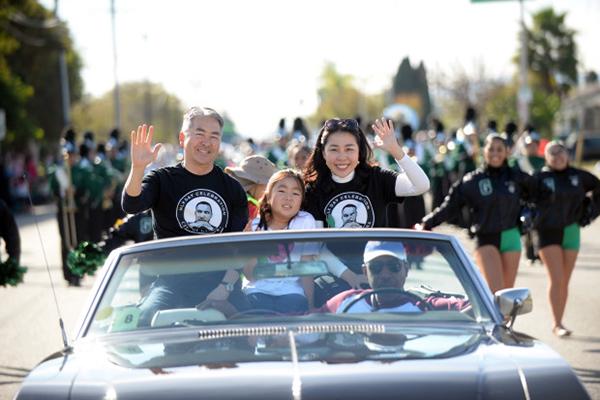 Picture Credit: Daily Breeze, Axel Koester
On January 13th, my family and I joined Rep. Maxine Waters, State Senator Steven Bradford, Mayor Tasha Cerda, Gardena City Councilmembers, and Gardena residents at the 45th Annual Dr. Martin Luther King Jr. Day Parade. Hundreds marched with Gardena schools, community groups, and organizations to honor the influential civil rights leader. The uplifting program concluded with honoring Brent Jones as the parade grand marshal and Patricia Worthy as the community grand marshal. The parade concluded with a "Battle of the Bands" competition.
---
South Bay School Board Presidents Meeting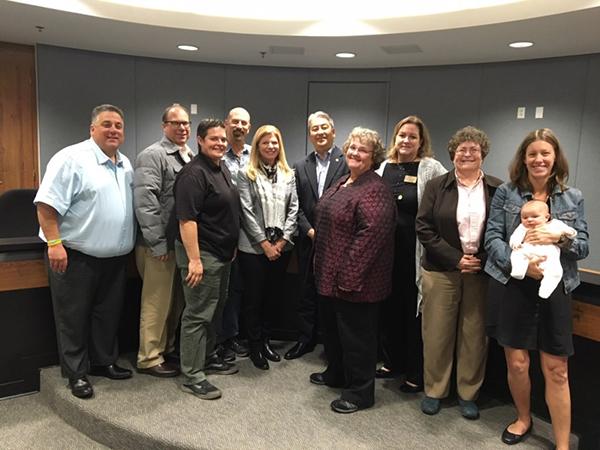 Pictured: Assemblymember Muratsuchi with South Bay School Board Members, Mark Waronek from County Supervisor Janice Hahn's Office and Sarah Bradshaw
On January 19, I met with school board presidents from across the South Bay to provide a legislative update and get feedback from the group.  I am especially focused on how I can work with our local school districts to increase funding and ensure that resources make it to the classroom where they are needed most.  As a former Torrance School Board Member and father of a student attending public school in the South Bay, I know first-hand the challenges our schools face.  I am committed to improving the educational experience for every student in the South Bay and the State and I look forward to continuing to work with these leaders to advocate for policies that benefit all school districts.
---
4th Annual South Bay Legislative Meet and Greet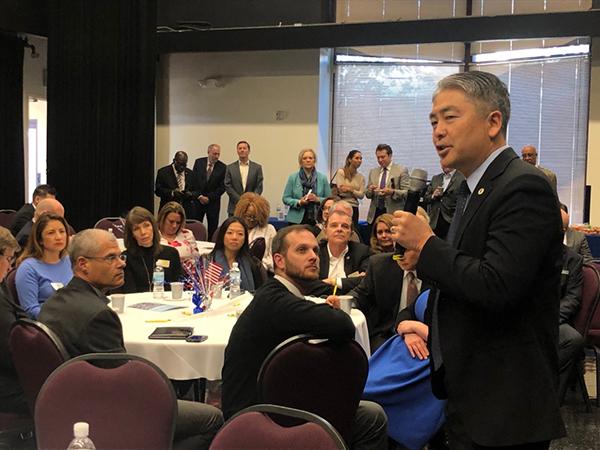 Pictured: Assemblymember Muratsuchi Addressing Audience of City Councilmembers and Staff
I was excited to join my colleagues from the state legislature, members of Congress, and Los Angeles County government to address an audience of South Bay City Councilmembers and their staff.  I discussed my efforts to decrease the state tax burden on small businesses, provide support for the Aerospace industry, and accelerate construction of the Metro Green Line to Torrance so that it will be up and running in time for the 2028 Olympics.  Thank you to the California League of Cities, South Bay Council of Governments, and South Bay Association of Chambers of Commerce for hosting this unique event.
---
Grades of Green Youth Corps "It's Easy Being Green" Festival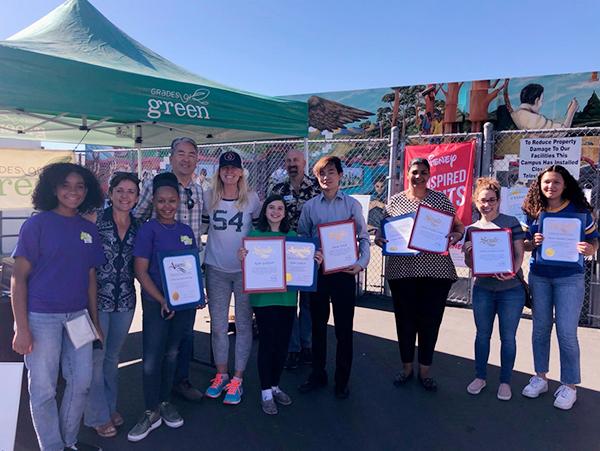 Pictured: Assemblymember Muratsuchi with Redondo Beach City Councilmember Laura Emdee, School Board President Brad Waller, Adams Middle School Principal Lisa Veal, and Student Organizers
I was honored to be invited to speak at the "It's Easy Being Green" festival at Adams Middle School in Redondo Beach on January 28th.  The fair was conceived and organized by an outstanding middle school student named Rylee Goldfarb.  Rylee is a member of the Grades of Green Youth Corps and secured a Disney "Be Inspired" grant to help put on the festival.  I was so impressed by Rylee and the other students who turned their passion for preserving our environment into an event where they could share their knowledge with others.  It is so encouraging to see the next generation of environmental activists working hard and organizing to make sure that California remains at the cutting edge of climate change policies, even when our federal government is working against us.  I can't wait to see what Rylee accomplishes next and I want to thank the Grades of Green for empowering young leaders and providing the tools and framework that made the fair such a success.
---
Environmental Stewardship Award – Friends of Madrona Marsh
Pictured: Assemblymember Muratsuchi Presenting the Environmental Stewardship Award to Suzan Hubert of Friends of Mardona Marsh
I was honored to present the January 2018 Environmental Stewardship Award to the Friends of Madrona Marsh in Torrance.  My staff and I congratulated them on their ongoing work supporting the Madrona Marsh as a wildlife preserve in the City of Torrance.  The marsh is a wonderful resource and a place for young people to learn more about our natural environment, and for everyone to enjoy and appreciate nature close to home as it is also a habitat with endangered native species.  It was a pleasure to attend their annual meeting and present the award in recognition of all they have done to preserve the marsh and ensure it remains an indispensable resource to South Bay residents.
---
What's up in AD 66 next month?
Here are a couple of events:
February 3 – Taste of Assembly District 66: Eat at Rudy's
February 6 – South Bay Association of Chamber of Commerce Board of Director's Meeting, Torrance
February 10 – Ask Al, Coffee and Conversation, Hermosa Beach City Council Chambers
February 16 – Protect the Coast!  Town Hall, Hermosa Beach Community Theater
February 17 – 2018 Day of Remembrance, Los Angeles
February 22 – Cal Competes Workshop for Small Business, SCROC Board Room, Torrance