August 2018 Newsletter

The Muratsuchi Monthly
National Conference of State Legislatures
 "State Legislators Leading the Way on Aerospace: Join the Journey"

I had the distinct honor to speak at the National Conference of State Legislatures on California's aerospace innovation in Los Angeles. I spoke about Assembly Bill 427, my Aerospace Commission bill which will establish a private-public partnership to advocate for California's aerospace industry and jobs. I was joined by Alabama Senator Bill Holtzclaw, Utah Senator Howard Stephenson, Virginia Senator John Cosgrove, and Texas Representative Dennis Paul, Texas.  AB 427 is on its way to the Governor!  If you'd like to send a letter of support to the Governor's office, click here.
In this issue of the newsletter, you'll find information about:
---
International Surf Festival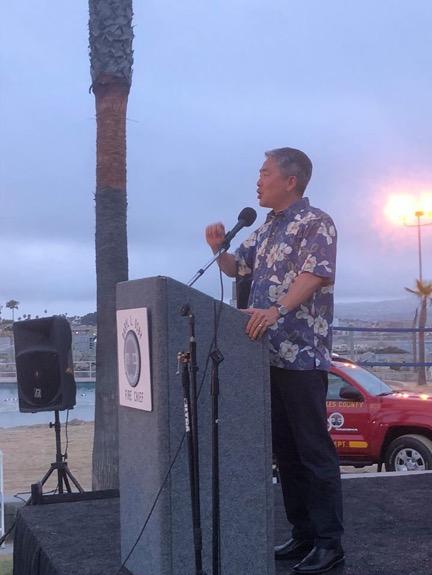 As surfing became the official sport of the State of California, the South Bay welcomed the International Surf Festival back to Redondo Beach! I had the pleasure of helping kickoff this great surfing tradition with the Los Angeles County Lifeguards Medal of Valor Dinner on August 1st.
---
A Conversation with Gardena's new Chief of Police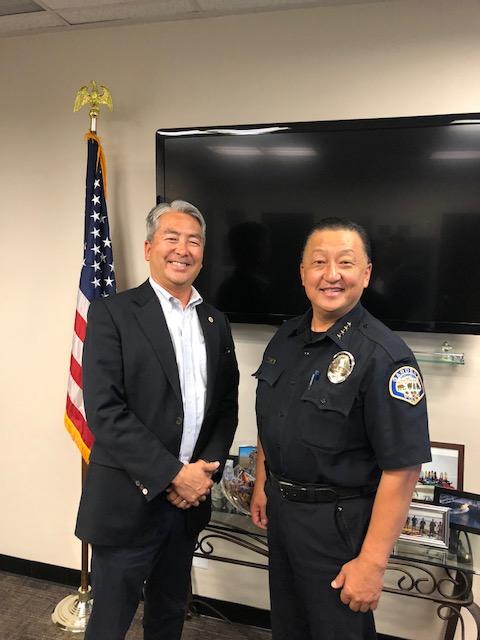 On August 1st I met with Gardena's new Chief of Police Thomas Kang to discuss the state of public safety in the city. Chief Kang has been with Gardena Police Department since he was a teenager and has been a police officer for over three decades. Being a Gardena native, he has done an excellent job connecting and communicating with the diverse community.
---
New Manhattan Beach Education Foundation Executive Director, Hilary Mahan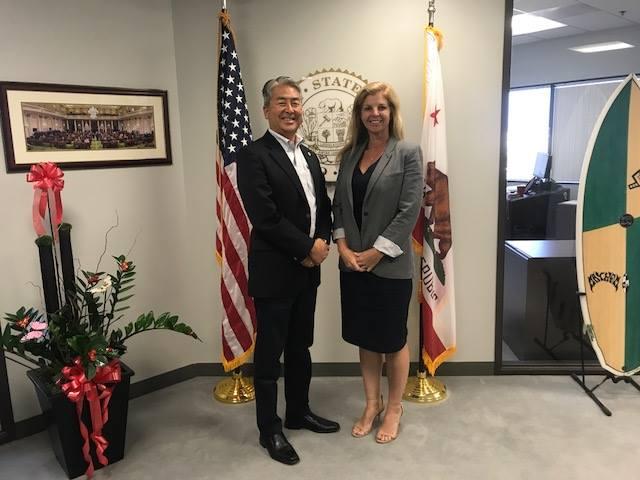 On August 1st I had the opportunity to meet the newly selected head of the Manhattan Beach Education Foundation, Hilary Mahan.  MBEF is an amazing fundraising machine that raises over $6 million every year to support K-12 education in Manhattan Beach through class size reduction, academic counseling services, music, art classes and STEM programs.  We discussed K-12 funding and how the state can work with districts and parents to provide our students with the resources they need.  I am committed to continuing to fight for resources for our public schools with the help of our great local partners like the Manhattan Beach Education Foundation.
---
Visiting Soul Performance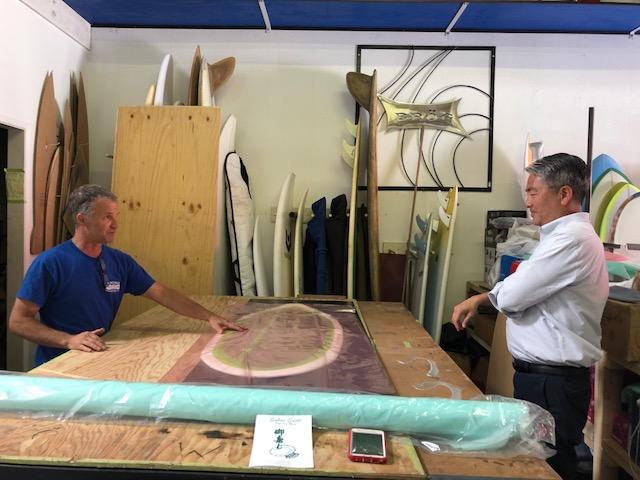 South Bay surfboard shaping legend Marc Brog welcomed me to his shaping factory at Soul Performance in Gardena. He does everything from restoring classic wood surfboards to manufacturing his own designs. With surfing becoming the official sport of California, I hope small businesses like Soul Performance can continue to thrive.
---
Ask Al, Coffee and Conversation, Harbor City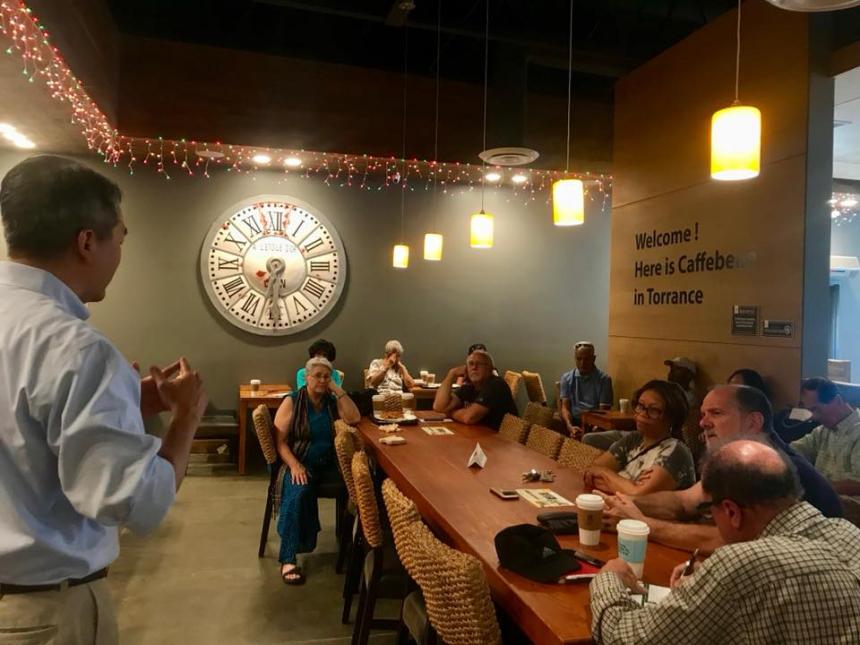 My monthly community coffee came to Harbor City this month, as Caffe Bene graciously hosted us once again. We had a great discussion about the future of public transportation in the South Bay, Torrance Refinery, and Harbor City neighborhood issues.
---
National Night Out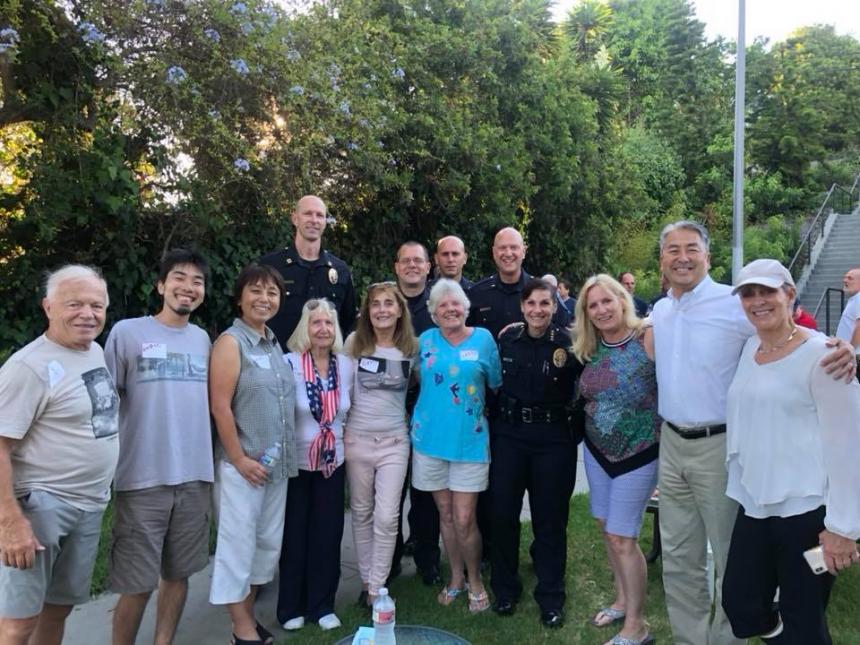 National Night Out on August 8th is a fantastic American tradition that allows police officers to meet and connect with community members. I had the pleasure of attending gatherings in Seaside Rancho in South Torrance, North Redondo Beach, and Gardena. Thank you to all peace officers for your service!
---
The 30th Anniversary of the Civil Liberties Act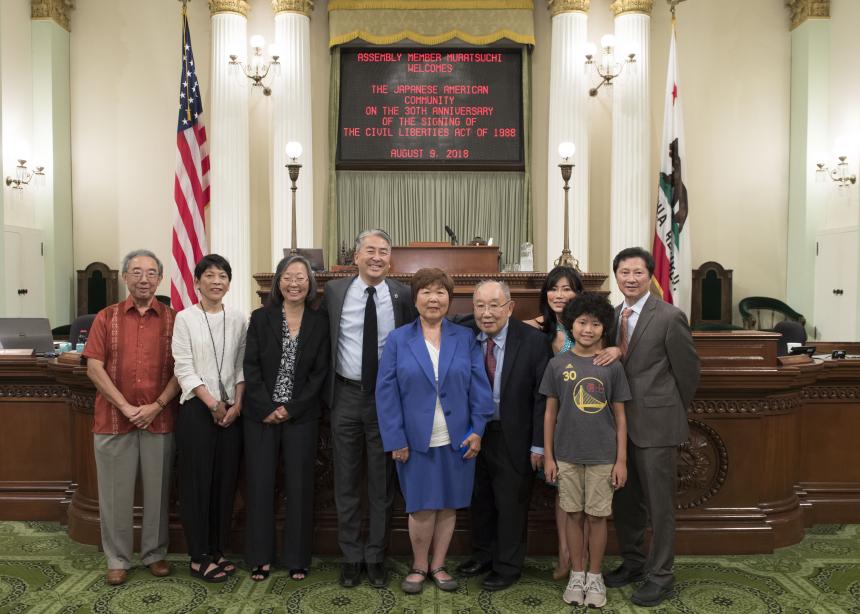 August 2018 marks the 30th anniversary of the signing of the Civil Liberties Act by President Reagan, which ordered compensation to the 120,000 Japanese Americans who were forcibly incarcerated during World War II.  I presented HR 116, highlighting the anniversary, and was honored to recognize former incarcerated Japanese Americans and their families to the Assembly Floor.
---
Tanabata Festival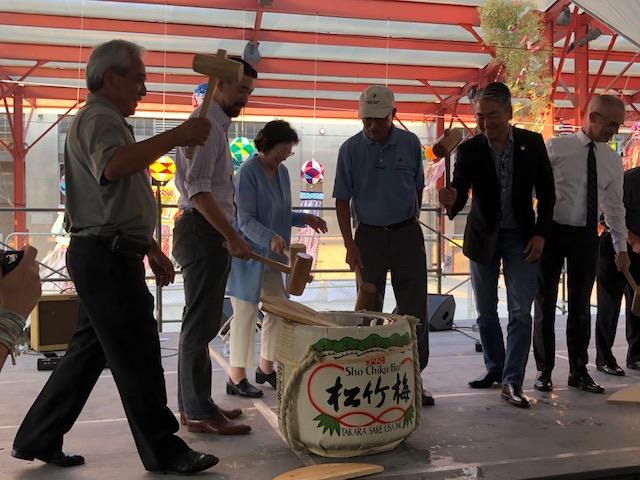 Little Tokyo celebrated its 10th Annual Los Angeles Tanabata Festival on August 10th. Traditionally beginning on July 8th, people will hang thousands of flowered paper balls and streamers throughout the city representing wishes for the coming year. Here in Los Angeles, the Tanabata Festival also serves as the kickoff to the Nisei Week Japanese Festival, which has been celebrating Japanese culture and community for 78 years.
---
South Bay Pet Adoption Fair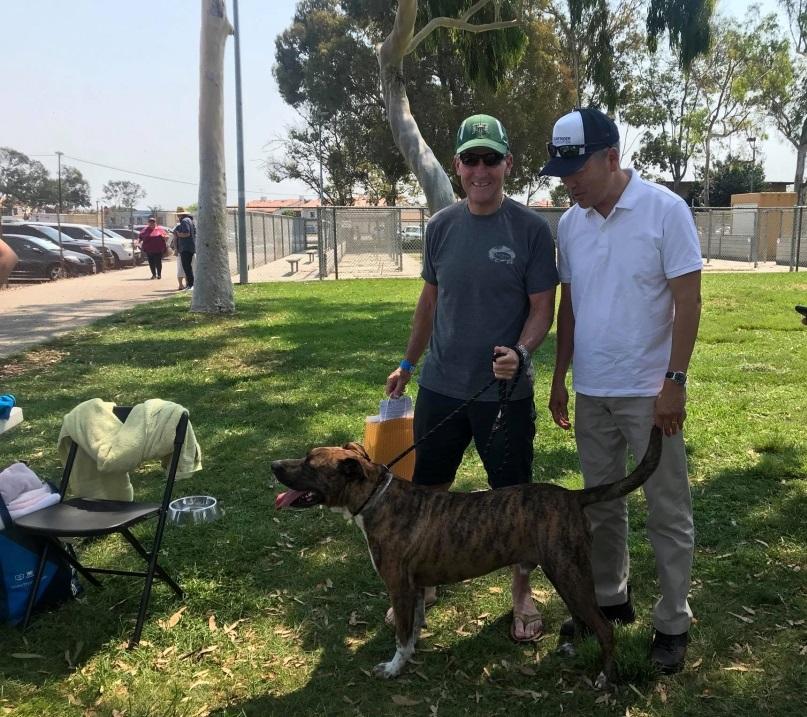 On August 11th I hosted my Second Annual South Bay Pet Adoption Fair at Wilson Park in Torrance. Dogs and a bunny from Carson Animal Care Center were adopted into loving homes. I also had the opportunity to talk about my Assembly Bill 2791, which will save the lives of unweaned, stray kittens and puppies by making them immediately available to rescue organizations. A big thanks to the Carson Animal Care Center for bringing adoptable pets to the event, and to the ASPCA for helping coordinate. A big thank you to Lazy Dog Restaurant for providing gift bags to all the new pet parents.
---
Fight Like the Avery's Fundraiser
Like so many of you, I was touched by the story of Kalea and Noah Avery.  Kalea was diagnosed with a brain tumor at six years old this June and her four year old brother was diagnosed with a brain tumor just two weeks later.  I joined a full house of compassionate South Bay residents at the Comedy and Magic Club on August 16th for a fundraiser to support Kalea and Noah's medical care.  One of the best parts of living in the South Bay is seeing neighbors come together to support one another.  My family and staff send best wishes to the Avery family and hope for a full recovery.
---
Redondo Beach Community Coffee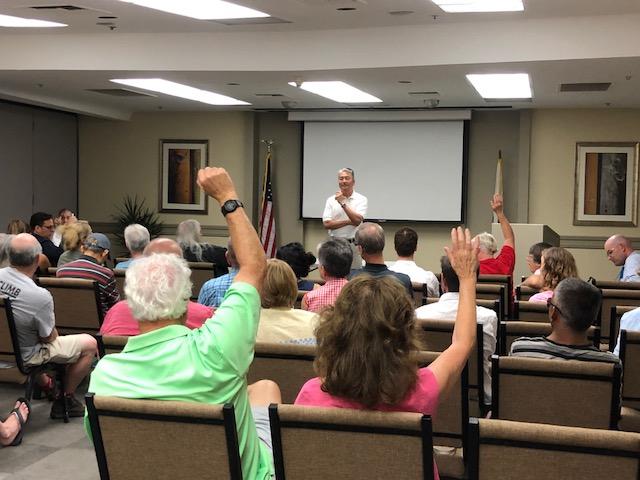 Redondo Beach City Councilman Christian Horvath invited me to meet the wonderfully engaged members of Council District 3 at his monthly community meeting at Beach Cities Health District. The majority of the discussion focused on the potential impacts of the Metro Green Line Extension on Hawthorne Blvd and the surrounding neighborhoods in North Redondo Beach. It was great to hear from the people that will be impacted most by this big project.
---
Styles of Hawaii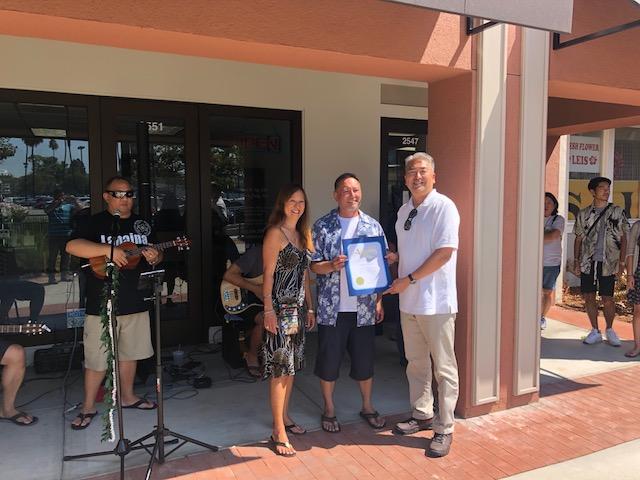 At the end of this month, one of Torrance's favorite small businesses will close after 60 years of serving the community. Styles of Hawaii was the go-to shop in the South Bay for authentic Hawaiian products from aloha shirts, to slippers, to Hawaiian music and snacks. Despite the business still being profitable, owners Linda Uyeda and Kevin Ajinine have decided it's time to shut their doors. I was honored to present a certificate of recognition to Linda and Kevin for their decades of service and a well-deserved retirement.
---
Children's Health Fair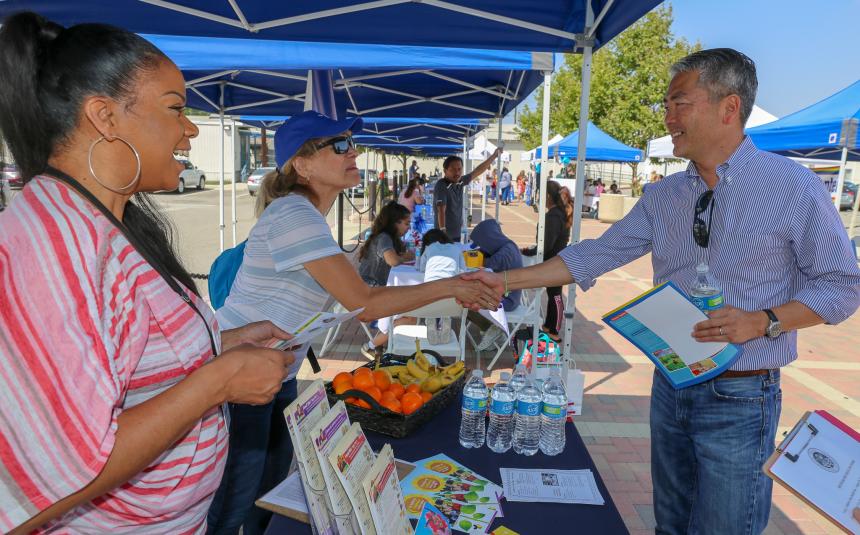 On August 25th I hosted my 2nd Annual Children's Health Fair with Harbor-UCLA Medical Center. Together we provided hundreds of school supplies, free dental exams, free vision exams and eye glasses, pediatric health information, and much more! All kids deserve proper school supplies and medical care.
---
Honda "Evening Under the Stars"
On August 25th, I joined American Honda and the Torrance Area Chamber of Commerce for their annual "Evening Under the Stars" event with proceeds going to the Torrance Memorial Medical Center.  Thank you to all the generous sponsors who help make the South Bay a better place to live and for supporting our world-class hospital.
---
Environmental Awards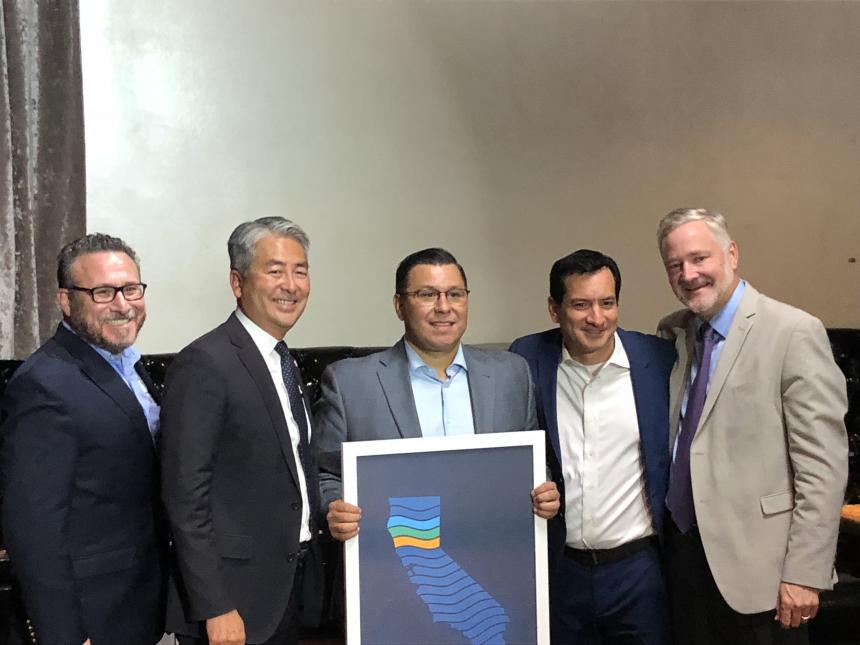 Earlier this month, I was deeply honored to be recognized by the California's environmental community with two awards.  On August 8th, I was chosen as a recipient of Green California's Green Leadership Award for my work on AB 1775, which prohibits the State Lands Commission from issuing new leases that would result in expanded offshore oil and gas production.  On the 14th, I was named Californians Against Waste Legislator of the Year. The award was in recognition of my efforts, as the Acting Chair of the Assembly Natural Resources Committee,  to support legislation that will help improve the state's recycling efforts, reduce plastics and other pollutants in the waste stream, and protect the marine environment and mitigate the impacts of climate change.
---
What's up in AD 66 next month?  Here are a couple of events:
Sept 1 – PetrolFest, Gardena
Sept 3 – Los Angeles Labor Parade, Wilmington
Sept 8 – Ask Al, Coffee and Conversation, Torrance
Sept 13 – Downtown Business & Professionals Association, Manhattan Beach
Sept 14 – Electric Week Ride & Drive Event, Gardena
Sept 15 – Ask Al, Coffee and Conversation, Manhattan Beach
Sept 15 – Switzer Center "Boots, Brews, & BBQ", Torrance