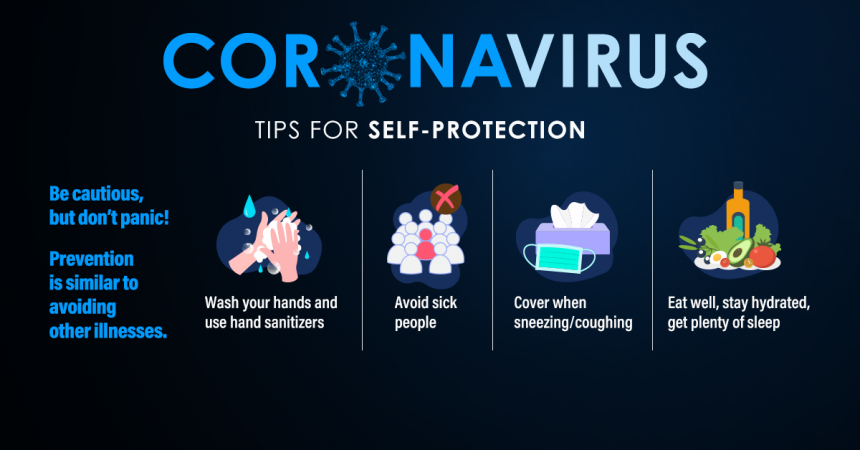 As with any virus, the California Department of Public Health reminds everyone that there are a number of steps individuals can take to protect themselves and those around them:
Wash hands with soap and water for at least 20 seconds.
Clean your hands often with an alcohol-based hand sanitizer that contains at least 60% alcohol.
Avoid touching eyes, nose or mouth with unwashed hands.
Cover your nose and mouth with a tissue when coughing or sneezing (or an elbow or shoulder if no tissue is available). Discard tissue and wash your hands.
Avoid close contact with people who are sick.
Get a flu immunization to prevent influenza if you have not done so this season.
For constantly updated information please check out this page with resources: http://covid19.ca.gov
For the latest data on the progression of this pandemic disease, please see this page which is updated daily by the State: https://update.covid19.ca.gov/#top
For more information on the new Regional Stay at Home Order, please see this page:
https://covid19.ca.gov/stay-home-except-for-essential-needs/#regional-stay-home-order
For more information from the County of LA Department of Public Health, please see this page:
http://publichealth.lacounty.gov/media/Coronavirus
For information on testing in LA County, please see this page:
https://covid19.lacounty.gov/testing
For more information on how to get the vaccine in LA County, please see this page:
http://publichealth.lacounty.gov/media/Coronavirus/vaccine/index.htm
---
California Labor & Workforce Agency Resources:
Affected workers can visit the Labor & Workforce Development Agency's website to review what benefits are available to them. For instance,
If you're unable to work because you are caring for an ill or quarantined family member with COVID-19 you may qualify for Paid Family Leave (PFL).
If you're unable to work due to medical quarantine or illness, you may qualify for Disability Insurance.
Those who have lost a job or have had their hours reduced for reasons related to COVID-19 may be able to partially recover their wages by filing an unemployment insurance claim.
If a worker or a family member is sick or for preventative care when civil authorities recommend quarantine, workers may use accrued paid sick leave in accordance with the law.
If workers are unable to do their usual job because they were exposed to and contracted COVID-19 during the regular course of their work, they may be eligible for workers' compensation benefits. All information and resources can be found at Labor.Ca.Gov/Coronavirus2019
---
Resources for Small Businesses
---
Facebook Town Hall Live Streams
Please join us for a community discussion with South Bay Black Leaders! This panel will cover topics such as the realities and challenges of being Black in the South Bay.
Employment assistance town hall with representatives of EDD and the South Bay WIB.
Are you a small business owner struggling to make ends meet? Do you need help in where to go for assistance? To answer some of these concerns, I am hosting an additional virtual Town Hall, Friday, May 1, at 5:30 p.m. For this event, I will be joined by Larry Johnson, Program Lead Advisor for the Small Business Development Center at El Camino Community College. He'll be answering your questions and giving an update on what help is available for small businesses.
Join me for a virtual LIVE Town Hall on Thursday, April 30, at 3 p.m. I will be joined by Jan Masaoka, CEO, and Lucy Salcido Carter, Public Policy Director, from CalNonprofits. They'll be answering your questions and giving an update on what help is available for nonprofits.
Facebook Town Hall with Craig Leach, President and CEO of Torrance Memorial Hospital. He answered your questions and gave an update on how the Hospital is responding to the pandemic.
During this unprecedented time, South Bay leaders believe it is important that you hear from us and provide you with the information and access to resources. To assist the constituents of the South Bay, Congressman Ted Lieu, Senator Ben Allen, and I hosted a Virtual Town Hall. We want to make sure that you have an opportunity to hear from your state and federal leaders and have your questions answered.
I hosted a Facebook Live Townhall to answer constituent questions, share with you some actions and resources for South Bay residents in response to the State's Covid-19 pandemic response.
---
Ealerts
05/06/20 - Small Business and Covered California
04/29/20 - Virtual Town Hall with Assemblymember Muratsuchi, Congressman Ted Lieu, and CalNonprofits
04/27/20 - Virtual Town Hall with Assemblymember Muratsuchi, Congressman Ted Lieu, and CalNonprofits
04/03/20 - You're Invited to a Facebook Town Hall on COVID-19
04/01/20 - Coronavirus (COVID-19) Update: Federal and State Actions
03/24/20 - Covid-19 Update: Small Business
03/18/20 - Coronavirus (COVID-19) UPDATE: HOUSING
03/18/20 - Coronavirus (COVID-19) Update
---
Fact Sheets and Other Flyers
Info for Undocumented Individuals
Info for Undocumented Individuals (Spanish)
Picking up your prescriptions (Spanish)
---
For up-to-date information on the Novel Coronavirus in our region, please refer to these resources:
Centers for Disease Control and Prevention
California Department of Public Health
---
Updates from Governor Gavin Newsom's Executive Order:
Waives the one-week waiting period for people who are unemployed and/or disabled as a result of COVID-19;
Delays the deadline for state tax filing by 60 days for individuals and businesses unable to file on time based on compliance with public health requirements related to COVID-19 filings;
Directs residents to follow public health directives and guidance, including to cancel large non-essential gatherings that do not meet state criteria (non-essential gatherings must be limited to no more than 250 people, while smaller events can proceed only if the organizers can implement social distancing of 6 feet per person. Gatherings of individuals who are at higher risk for severe illness from COVID-19 should be limited to no more than 10 people, while also following social distancing guidelines);
The state of California is empowered to take over hotels, motels, and medical facilities in order to quarantine, isolate or treat Coronavirus patients;
Readies the state to commandeer property for temporary residences and medical facilities for quarantining, isolating or treating individuals.
More information can be found through the Office of the Governor.
California Department of Public Health Resources:
The California Department of Public Health has consolidated state Guidance Documents on how to prepare and protect Californians from COVID-19 in a single location.
This includes guidance for:
Health care facilities, including long-term care facilities
Community care facilities, including assisted living facilities and child care
Schools and institutions of higher education
First responders, including paramedics and EMTs
Employers, health care workers and workers in general industry
Health care plans
Home cleaning with COVID-19 positive individuals
Gathering Guidance
Guidance for Using Disinfectants at Schools and Child Cares
Laboratories
Health care facilities from Cal/OSHA
Homelessness Providers
Health Care Coverage Options:
Covered California has additional options for people who have lost their health care during this pandemic, please see their website for more information: https://www.coveredca.com
Those who are uninsured and/or do not have a primary health care provider and are symptomatic of virus can call 211 for assistance.
---
Frequently Asked Questions:
QUESTION: How many people have become ill from COVID -19?
ANSWER: Current data from the CDC is available here.
QUESTION: What are the symptoms of COVID-19?
ANSWER: Typically, human coronaviruses cause mild-to-moderate respiratory illness. Symptoms are very similar to the flu, including: runny nose, headache, cough, sore throat, fever and shortness of breath.
QUESTION: How is COVID-19 diagnosed?
ANSWER: Health care providers will assess patients and if novel coronavirus infection is possible, they will do further testing. Please contact your provider before going in to an office or clinic so that they can be prepared for your arrival so others will not be exposed. If there is suspicion of an infection, public health agencies will work with health care providers to ensure CDC testing can be completed.
QUESTION: What is the treatment for COVID-19?
ANSWER: There are currently no vaccines available to protect you against coronavirus infection. Most people with illnesses due to common coronavirus infections recover on their own. There are no specific treatments for coronavirus infection. For patients who are more severely ill, hospitals can provide supportive care. We are learning more about this novel coronavirus and treatment may change over time.
QUESTION: What should someone do if they have symptoms?
ANSWER: If you have traveled to areas with a large outbreak or have been with a person who has tested positive, and you have become ill with fever, cough or shortness of breath, call your health care provider or local health department. Please be sure to tell your health care provider about your travel history.
QUESTION: Where can the public get information about COVID-19?
ANSWER: The CDC website and CDPH website.
If you have any questions or concerns, please don't hesitate to reach out to my office. We're always here to answer questions, and together we can keep our community healthy.
---
Mental Health Care
The COVID-19 pandemic has upended life as we know it. Whether you are out of work or working from home, have shuttered your business, are struggling with homeschooling your children, or have missed out on important family and friend moments, we are all experiencing increased stress. May is Mental Health Awareness Month and I want to share some available resources.
If you are feeling overwhelmed with sadness, depression, or anxiety, or feel like you want to harm yourself or others, you can call the National Suicide Prevention Hotline at 1-800-273-8255 More resources can be found here.
According to mental health professionals, some strategies for managing stress are:
Be mindful of your intake of information from news sources about the virus, and consider taking breaks from it.
Maintain social contact with supportive relationships like friends, family or others, by phone, text, or internet.
Treat your body kindly: eat healthy foods, avoid excessive alcohol, and exercise as you are able.
Call your health care provider if your anxiety interferes with your daily activities.
Learn about additional strategies to manage your stress for health.
For parents, Common Sense Kids Media has developed a guide to help parents who are concerned about their family's mental wellbeing.
Torrance Memorial Hospital and Beach Cities Health District all have useful information to manage anxiety and stress.
Additionally, there are more resources for you and your family to use on my website, including making a stress relief plan, which mental health professionals say is a good way to help control stress. There is also a suggested Mental Health Month activity guide here.
Coronavirus Mental Health Graphics